Meghan Markle and Prince Harry's "ethereal" tasting wedding cake will be displayed in a special installation, their baker has revealed.
Claire Ptak, who is making the culinary centrepiece for the couple's big day, said the layered lemon and elderflower cake – in three parts of varying sizes – would be presented in a non-traditional way.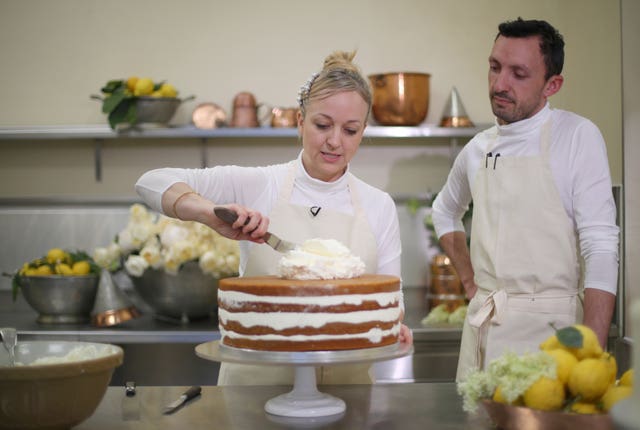 "It's a slight shift from tradition."
The chef, who owns the small, trendy Violet Bakery in east London, has been working with her team of six bakers full time for five days in the large kitchens of Buckingham Palace.
The cake, which is being decorated on the outside with a white, elderflower swiss meringue buttercream, is made of layered lemon sponge, drizzled with an elderflower syrup to a recipe specially created for the couple.
Some 200 Amalfi lemons are being used in the recipe, as well as 10 bottles of Sandringham Elderflower Cordial made using elderflower from the Queen's Sandringham estate, 20kgs of butter, 20 kgs of flour, 20kgs of sugar and 500 organic eggs from Suffolk.
Ms Ptak said: "It's a lemon sponge – a special sponge that I developed just for the couple, and we drizzle the layers with elderflower cordial from the Sandringham estate so it's really lovely and as local as you can get.
"We have a lemon curd made from Amalfi lemons which to me have the most delicious flavour.
"And then we've got elderflower swiss meringue buttercream."
She added: "The buttercream is sweet and the lemon curd is very tart so you get a very lovely thing happening when you take a bite, which is to get all of these flavours and sensations perfectly balanced."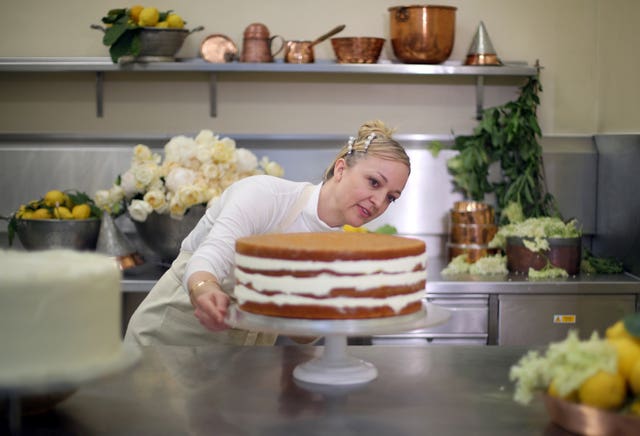 "It's of this moment. It's May so they're just opening this week.
"It's a kind of an ethereal, floral flavour which I think is very special, especially for a wedding."
Slices of the cake will be served to the 600 guests at the lunchtime reception in St George's Hall after the ceremony.
Three types of Meghan's favourite flowers peonies – Madame Claude, Bowl of Cream, and the aptly titled Duchess – in shades of white and cream will decorate the cakes, along with four different white and cream roses – Patience, Purity, Jeanne Moreau and Princess Miyuki.
The flowers will be removed before guests tuck in to the cake, but the slices will be served with edible rose petals.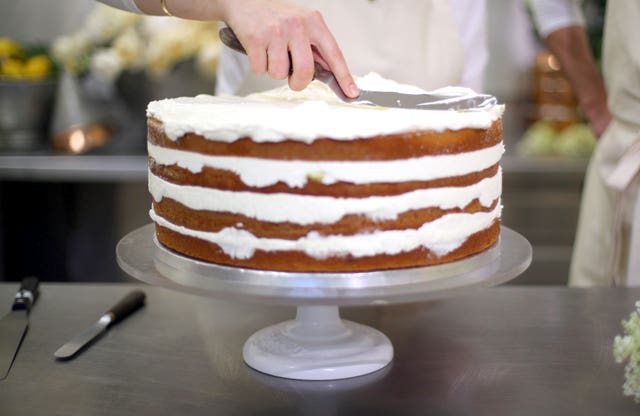 Ms Ptak, who was on Thursday removing one of the circular cakes from its large tin, before beginning to ice it with buttercream, was helped by Violet Bakery's head baker Izaak Adams.
She added of how the baking was going: "There's a few logistics of serving so many people at the same time. But it's been a great process."
She said Harry and Meghan loved the lemon and elderflower cake after trying a number of different samples.
"They loved it. They tried quite a collection.
"What they said to me is that they really loved the idea of the seasonality and the freshness."
Ms Ptak is not making a back up cake in case of a disaster, saying: "It's cake. It can't go that wrong.
"We have enough cake and we don't want to be wasteful. Anything that is left over, we were going to donate to charity."
The chef had to call in some of her former workers to have enough staff to work on the cake and keep her bakery open.
Part of the cake is still being baked and iced.
It will be transported to Windsor Castle where the flowers will be added, and the installation assembled on the morning of the wedding.