A new national memorial commemorating victims of overseas terrorism is "a symbol of unity, against hatred and violence", a dedication ceremony has heard.
Defence minister Tobias Ellwood, was speaking at the National Memorial Arboretum in Staffordshire.
The Prince of Wales, Duchess of Cornwall, Foreign Secretary Boris Johnson and Labour leader Jeremy Corbyn were among the guests, as were families who had lost loved ones to overseas terrorism.
The National Memorial to British Victims of Overseas Terrorism was designed by artist Alison Wilding and sculptor, Adam Kershaw, as a dedicated place of remembrance, contemplation and reflection.
"Today, here at the arboretum, we can now honour those innocent people, caught up in conflict – as well as the brave and the fallen who have valiantly served our nation.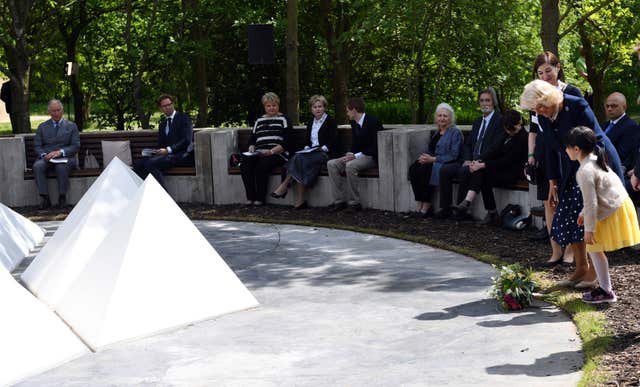 "Even more united in our determination to uphold our values and not have our way of life challenged."
During the ceremony Charles said a few words and Camilla laid a small floral tribute, joined by seven-year-old Elisa Cousland, whose father was killed in the Moscow airport bombing in 2011, who also left flowers.
Afterwards the prince and duchess met some of the families who have lost loved ones.