The Archbishop of Canterbury hopes people pray for Meghan Markle's father after it was confirmed the Prince of Wales would step in for him at the royal wedding.
The Most Rev Justin Welby, who has been at a number of rehearsals ahead of the eagerly anticipated ceremony, said it is "wonderful" that Charles will walk Ms Markle down the aisle.
Ms Markle's father Thomas Markle was forced to pull out of performing the fatherly duty after undergoing heart surgery in a dramatic upset just two days before the wedding.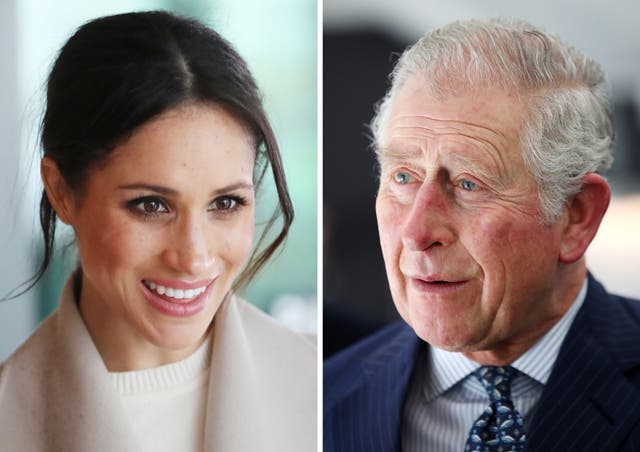 "And I hope people will pray for him, and pray for the couple and pray for everyone involved on the process tomorrow."
Talking about the Prince of Wales being chosen to walk Ms Markle down the aisle, Mr Welby said Charles is "someone of great care and affection", adding: "He's a very warm person and that he's doing this is a sign of his love and concern and support.
Mr Welby said of Harry and Ms Markle: "They're a very, very sensible, they're a very self-possessed couple.
"And at the rehearsal they just got on with it and it was very relaxed, laughing and enjoyable."
Mr Welby described Ms Markle and Harry as "a delight".
He added: "There's profound affection between them which is wonderful and a deep understanding and mutual support. You see in the way they respond to each other, caring for each other, which is something you see in many couples, but not always. It's very evident and that's wonderful."
Prince George and Princess Charlotte are among the six bridesmaids and four pageboys.
"I'm sure there will be. It will be beautiful."
Mr Welby did an interview alongside The Most Rev Bishop Michael Curry, the 27th presiding bishop and primate of the Episcopal Church, who will give an address at the wedding.
The preacher, from Chicago will attend the service at St George's Chapel, at which Mr Welby will officiate.
Ms Markle was baptised by Mr Welby ahead of her wedding to the prince, whose grandmother, the Queen, is head of the Anglican Church.
Prince George and Princess Charlotte are among the six bridesmaids and four pageboys.
Mr Curry said the marriage is significant in the sense that "different worlds are being brought together" but he added that we are "part of God's family", saying: "In a sense it's different and in a sense no, it's being who we are."
Mr Curry said: "My prayer really is that the sermon will be a word of hope, be a word about Jesus Christ and the love of God that he has shown us how to live in our lives, and change the world by doing that. That's my prayer."
The preacher said he felt "genuinely excited and hopeful and prayerful".