A proposal to keep the UK closely tied to the EU's customs union beyond the end of 2020 could only be acceptable to Tory Eurosceptics on a short-term basis, a former party leader said.
Theresa May is set to present a plan to break the deadlock over the Irish border issue to European Union leaders, which is reported to involve keeping the whole UK aligned with customs tariff rates set in Brussels.
The move would only be a "backstop" proposal if other arrangements to avoid a hard border between Northern Ireland and the Republic of Ireland failed or were not ready by January 1 2021 after the implementation period expires.
The Prime Minister has already said the existing fallback option, which would keep Northern Ireland closely aligned to EU rules, is unacceptable because it would effectively create a border with the rest of the UK in the Irish Sea.
Former Conservative leader Iain Duncan Smith suggested the proposal could be acceptable to fellow Eurosceptics as long as it was not aimed at providing a lasting solution.
He suggested that a backstop could be useful "maybe for a month or two".
He told BBC Radio 4's Today: "If they do require to have some kind of backstop, most people will accept that on the basis that it is there for practical reasons but that it is not in any way about the politics, it is wholly about the practicalities."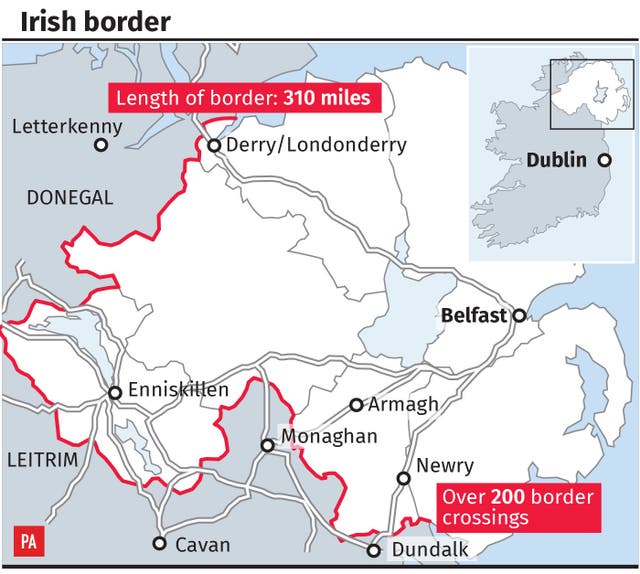 But Neale Richmond, chairman of the Irish senate's Brexit committee, acknowledged it was still a possibility that the UK could walk away from talks without a deal and "flights would be grounded, foodstuff will rot in ports".
He told Today: "Brexit is not going to be good for Ireland, we have acknowledged that, we didn't ask for it.
"We are trying to limit the damage and work in the most progressive way possible with the British Government to achieve that."
But he said the rules of the single market could not be ignored in establishing the new relationship.
"It's not going to be easy, but we are not going to sacrifice the entire integrity of our single market, of our union, just to satisfy certain opinions in the United Kingdom."