Here are the timings of the main events on Prince Harry and Meghan Markle's wedding day.
0900 – Members of the public who have been invited to watch the wedding day from the grounds of Windsor Castle begin to arrive.
0930-1100 – Wedding guests arrive at the Castle's famous Round Tower by coach and enter the chapel through the South Door and take their seats.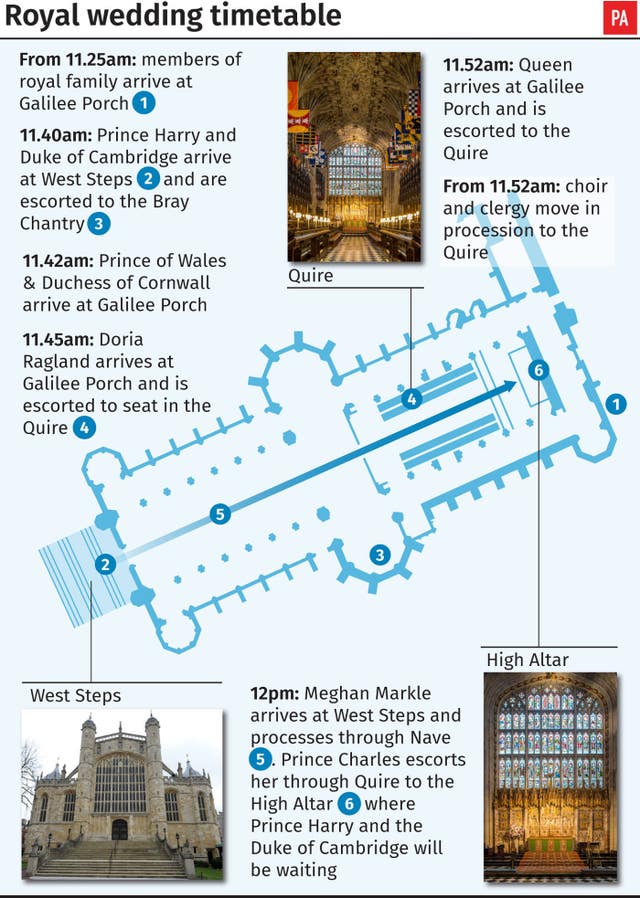 1140 – Harry and best man the Duke of Cambridge arrive at the chapel's west door, received by the Dean of Windsor. They will probably arrive on foot, walking past the thousands of spectators invited into the grounds of the castle. The moment will give Harry the chance to acknowledge the 200 representatives from charities he is associated with gathered in the Horseshoe Cloister at the bottom of the steps.
1145 – The Prince of Wales arrives at the Galilee Porch.
1152 – Following protocol, the Queen will be the last member of the royal family to arrive for the wedding service.
1159 – Ms Markle arrives at the Chapel's West Steps by car, from her overnight accommodation at the Cliveden House Hotel in Taplow, Berkshire. Ms Markle will walk through the Nave on her own followed by her bridesmaids and pageboys who include Princess Charlotte and Prince George, before being accompanied by Charles down the aisle of the Quire.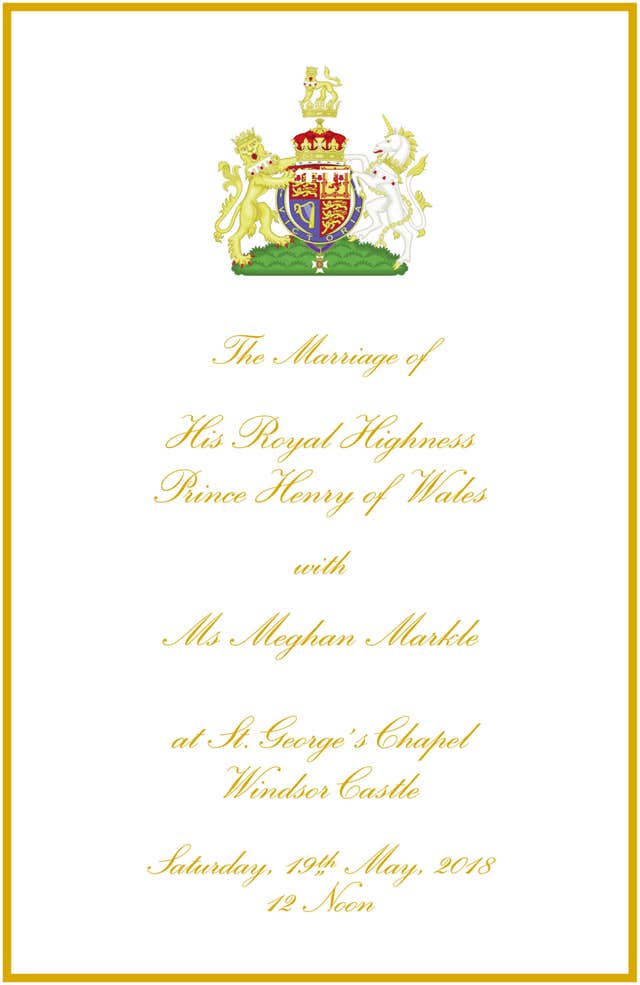 1300 – Service ends and the newlyweds emerge at the West Steps of the Chapel. They will be waved off on their carriage procession through Windsor by members of both families. The congregation will file out of the chapel to see the married couple leave before heading to St George's Hall for a lunchtime reception hosted by the Queen.
1305 – The carriage procession through the streets of Windsor possibly begins around this time, taking 25 minutes.
1900 – Bride and groom depart Windsor Castle for the evening reception at Frogmore House, hosted by the Prince of Wales.