Newlyweds Harry and Meghan were celebrating beginning their married life together after sharing a tender kiss in a historic, romantic wedding ceremony.
The royal bride and groom, the new Duke and Duchess of Sussex, married in the gothic surrounds of the 15th-century St George's Chapel in Windsor Castle.
And in a touching gesture, thoughtful Harry gave his wife a poignant wedding-day gift – an emerald-cut aquamarine ring which belonged to his late, beloved mother Diana, Princess of Wales.
Meghan, the first mixed race person in modern history to marry a senior British royal, is now an HRH and one of the Windsors.
This royal wedding was one with a difference, combining British traditions with diversity and modernity as Harry and Meghan incorporated the bride's cultural heritage.
Sounds of a gospel choir filled the stunning venue, with US preacher Bishop Michael Curry delivering an impassioned, rousing address on the power of love.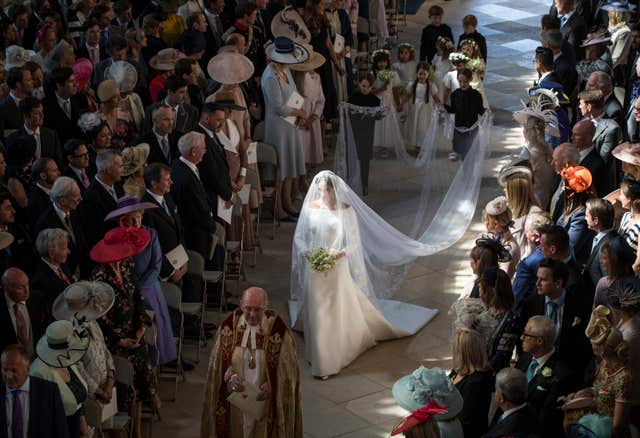 An emotional Harry, son of the Prince of Wales and the late Diana. Princess of Wales, told Meghan as they met at the altar: "You look amazing. I missed you."
Surrounded by hundreds of cream and white roses and peonies entwined with green foliage around the West Door, the couple emerged from the chapel as husband and wife and stopped and kissed to the delight of cheering onlookers.
As they paused on the steps, a smiling Meghan looked up at her new husband and asked: "Do we kiss?"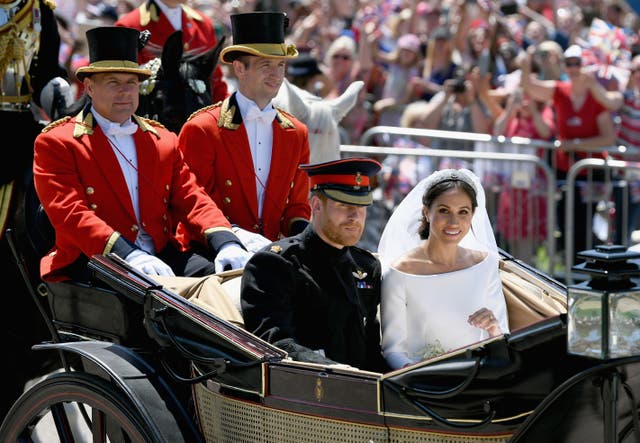 The bride wore a stunning elegant, simple, pure white gown bv Clare Waight Keller for Givenchy, with three-quarter length sleeves and open bateau neckline.
Her five-metre long delicate silk tulle veil, embroidered along the edge with flowers from all 53 Commonwealth nations, was carried at the end by two pageboys as she made her way up the aisle, over the black and white chequed stone floor of the church.
Meghan later changed into a second dress – a glamorous, sleek, lily white halter neck silk crepe gown by Stella McCartney for a private black tie evening do at Frogmore House.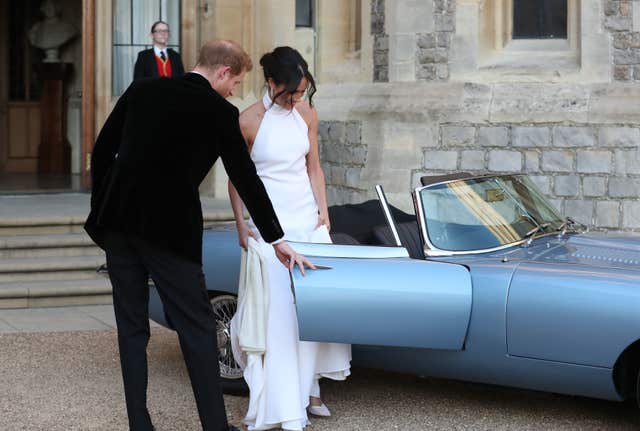 As Meghan waved to onlookers as they left, Diana's ring could clearly be seen on her right hand.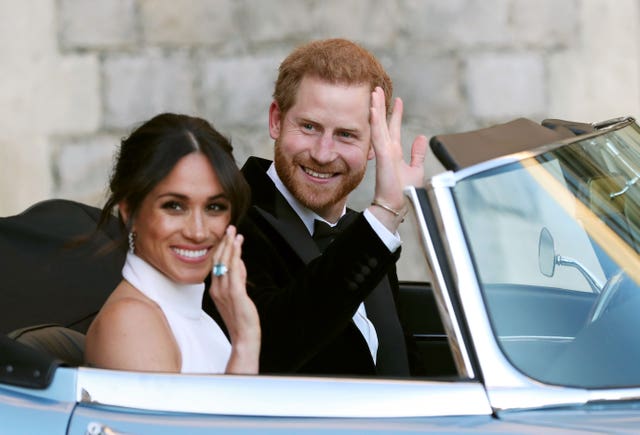 In a nod to the date of their nuptials, the car number plate was "E190518".
Some 600 guests including the Queen and more than 30 royals joined the couple in the chapel, along with celebrities such as US chat show queen Oprah Winfrey, tennis champion Serena Williams, actor George Clooney and his barrister wife Amal Clooney, Sir Elton John, David and Victoria Beckham and actor Idris Elba.
Sir Elton, who sang at the funeral service for Harry's mother, Diana, Princess of Wales, performed at a lunchtime reception afterwards.
An estimated 100,000 people turned out to see the couple as they sat in an open-top Ascot Landau for a carriage procession through Windsor.

Meghan exclaimed "wow" at their rapturous welcome and the pair shared a second kiss during the ride.
As the horse-drawn carriage returned to Windsor Castle, Harry quipped: "I'm ready for a drink now."
Meghan's hair was styled in an up do for the service and she wore the glittering Queen Mary's Diamond Bandeau tiara, her something borrowed which was loaned by the Queen.
Missing from the day was Meghan's father Thomas Markle, who was thousands of miles away in Mexico after pulling out just days ago due to ill health.
He told celebrity website TMZ: "My baby looks beautiful and she looks very happy. I wish I were there and I wish them all my love and all happiness."
Later the royal family expressed gratitude to all those who enjoyed the wedding, saying on the official Twitter account: "Thank you to everyone who came to Windsor and those who followed from around the UK, the Commonwealth, and the world today. Congratulations once again to the newly-married Duke and Duchess of Sussex. #royalwedding."
Harry, 33, and 36-year-old Meghan became engaged following a whirlwind 16-month romance after going on a blind date in London.
The prince has told how "all the stars were aligned" when they met.