Boris Johnson tried a spot of dancefloor diplomacy and went close-up with a manatee as he took a trip deep into the Amazon rain forest.
Mr Johnson became the first UK Foreign Secretary in more than half a century to visit Peru, on the opening leg of a five-day tour of Latin America.
The Foreign Secretary hand fed one of the marine mammals – also known as sea cows -with leaves, and gave a manatee calf milk from a bottle.
The encounter took place in the Amazon Rescue Centre near the town of Iquitos, after he flew in with the country's president Martin Vizcarra and foreign minister Nestor Popolizio.
And Mr Johnson was just as keen to get involved when he visited the village school at nearby Santa Marta, on the bank of the Amazon.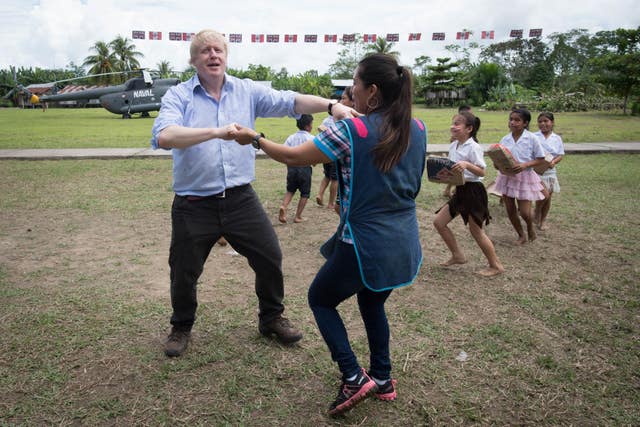 His shirt already rather crumpled from the rigours of the tropical heat and his arrival on board a military helicopter, even Mr Johnson would be forced to admit his performance was not quite Strictly standard, as he twirled Miss Pinedo around to cheers from her pupils.
His Amazon trip was designed to back up the Foreign Office's drive for closer trade and cultural links with South American states including Peru following Brexit.
The Santa Marta school has benefited from a UK-funded solar power scheme to provide it with electricity.
As the children excitedly told him it meant they would be able to follow the Peru team in this summer's football World Cup, Mr Johnson came close to a gaffe, when he told them: "England is in the World Cup too. We're not so… I'd better be careful what I say."
Mr Johnson's encounter with the manatee was followed by the signing of an agreement for Peru to be a partner in a conference on fighting the illegal trade in wildlife being hosted by the UK in London in October.
Mr Johnson joked that the plump, slow-moving creature had reminded him of a particular Member of Parliament, but he refused to say who.
Manatees are threatened in the Amazon as local people hunt them for meat and use their young as pets.
He later visited a stadium being constructed in Lima for next year's 2019 Pan Am Games athletic tournament, which Peru is hosting.
Britain is already using its experience from the 2012 London Olympics to
support the project and UK firms are expected to be bidding for construction contracts as building work continues.
The arrival of Mauricio Macri as president has seen Argentina dial down its rhetoric on the disputed islands and seek engagement with the wider world, including by hosting the G20 this year.
Mr Johnson will attend a meeting of G20 foreign ministers in Buenos Aires on Monday, and Theresa May is due to become the first prime minister since Tony Blair in 2001 to visit Argentina when she takes part in the leaders' summit in November.