Ireland's Health Minister Simon Harris has said it is "frightening" that unless citizens vote to liberalise the country's strict abortion laws, women will continue to face the threat of jail for terminating a pregnancy.
Mr Harris said that, as long as an amendment which gives equal right to life of the woman and the unborn remains in the Constitution, a penalty was legally required.
"That's quite frightening," he said. "People who are going to go out to vote on Friday need to know that."
He added: "I don't give instructions to doctors to call the police… but it shouldn't take away from the reality."
Mr Harris made the comments as the masters of two of the country's main maternity hospitals called for a Yes vote in Friday's referendum.
Citizens are being asked whether they want to remove the Eighth Amendment, which gives equal right to life to the mother and the unborn, and replace it with wording to allow for parliament to legislate for the termination of pregnancies.
If passed, it would see the Government legislate for abortions for up to 12 weeks of pregnancy without restriction.
Currently, terminations are only allowed in the Irish Republic when the life of the mother is at risk, including from suicide, and the maximum penalty for accessing an illegal abortion is 14 years in prison.
Rotunda master Professor Fergal Malone and Holles Street master Dr Rhona Mahony said the threat of the custodial sentence for ending a pregnancy was driving women out of the country's healthcare system.
They said doctors' hands were tied trying to care for women under the current legislation where there has to be a risk to the life of the woman before a termination can be carried out.
"We do have to wait until there's a real and substantial risk not to her health but to her life," said Professor Malone.
"That ties our hands."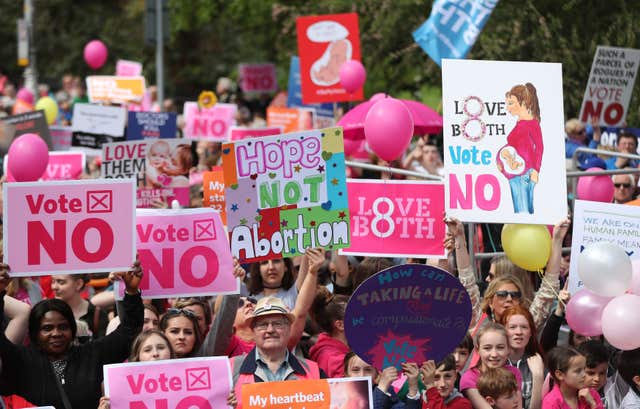 She added: "A bar that requires women to be dying or at serious risk of dying is not an acceptable bar in 21st-century medicine."
Prof Malone and Dr Mahony said they were very concerned about patients sourcing abortion pills from the internet.
About 1,500 women a year are taking medications to procure an abortion, Professor Malone said, and of them about 2% or 3% will run into medical complications.
Dr Mahony said women who had taken these pills and were feeling unwell should seek help.
"We are not policemen," she said. "We are doctors and we will care for you."
Former taoiseach John Bruton told RTE Radio One that Ireland should be trying to minimise the number of abortions that Irish women have, not changing laws so that women can have them.
"When an abortion takes place you're ending the life of a little girl or a little boy who is not going to be allowed to be born… that's ending a life," Mr Bruton said.
"It's irreversible and we want to reduce that," he said, adding it was not possible to eliminate it completely given people are free to travel to Britain.
He said that he feared more Irish women would opt to have a termination if the referendum were passed.
"The number of people who will opt to have abortion if it's freely available here in this country without travelling will be far more than there would be if they have to travel," he said.
"In the process of them making the decision of having to travel lives are being saved."