A £50 million cash pot aimed at helping efforts to reduce the educational attainment gap could end up instead paying to "simply maintain basic services" in Scotland's schools, Labour has claimed.
Education Secretary John Swinney came under fire from opposition MSPs after he said reducing the gap in performance between youngsters from deprived communities and their better-off counterparts is the "defining mission" of the Scottish Government.
Labour education spokesman Iain Gray said "swingeing" cuts to council budgets imposed by SNP ministers meant local authorities could be forced to use the £50 million to maintain basic services.
Scottish Greens accused the Scottish Government of "announcing the same pot of money over and over again".
The claims were made after Mr Swinney confirmed nine local authority areas – as well as 74 schools in a further 12 councils – will share £50 million in funding in 2018-19.
The move is part of the the Scottish Government's efforts to tackle the attainment gap using its £750 million Attainment Scotland Fund.
The latest funding round will see more than £8 million go to schools in the Glasgow City Council area while North Lanarkshire will receive almost £7.5 million, with over £6 million going to help pupils in Dundee.
Mr Swinney said: "Improving the education and life chances of our children and young people is the defining mission of this government.
"Central to this is the Scottish Attainment Challenge, which is supporting hundreds of schools to develop approaches to improve literacy, numeracy and health and well-being that raise attainment and help close the poverty-related gap."
Mr Swinney announced the funding allocations on a visit to Clydebank High School in West Dunbartonshire – one of the nine council areas receiving a share of the cash.
The area has already benefited from £13.8 million of funding in the past four years as part of the scheme, with Mr Swinney saying this was "starting to make a real impact" and children were making "significant progress".
He added: "A recent evaluation of the fund found that three-quarters of school heads believe the attainment gap has started to close and almost all expect progress in the next five years."
Nine councils will receive £43 million, with money going to Clackmannanshire, Dundee, East Ayrshire, Glasgow, Inverclyde, North Ayrshire, North Lanarkshire, Renfrewshire and West Dunbartonshire.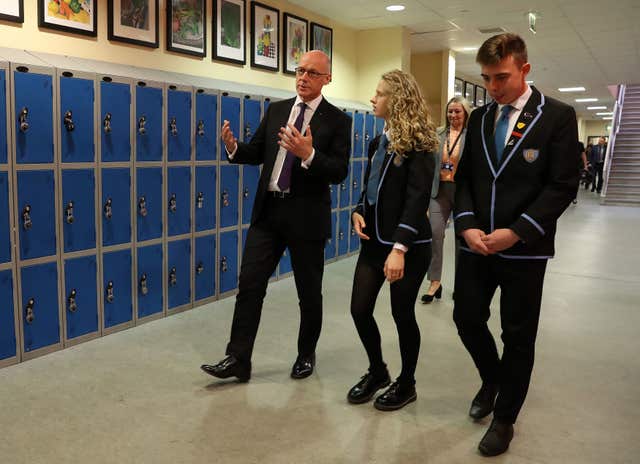 Mr Gray said: "Any funding to try and close Scotland's shameful attainment gap is, of course, welcome.
"But the reality is the SNP's swingeing cuts to school budgets mean this money is often being used to simply maintain basic services rather than improve attainment.
"Rather than making a song and dance of distributing money that has already been announced, John Swinney would be better off getting his government to properly fund our schools in the first place, so this funding is genuinely additional."
Scottish Green education spokesman Ross Greer said: "John Swinney is becoming well practised in the art of announcing the same pot of money over and over again.
"It is always welcome to see funding distributed to schools but this £50 million package is not new.
"It is simply the latest instalment of the Attainment Challenge Fund first announced in 2016 and trumpeted multiple times since. Reannouncing the same money doesn't reverse the cuts to core school budgets over the last decade."