The continuing dispute about the sovereignty of the Falkland Islands should not get in the way of Britain building deeper commercial links with Argentina, Foreign Secretary Boris Johnson has said.
Mr Johnson was speaking after talks with his Argentine opposite number Jorge Faurie, at the end of a three-day visit which has seen him become the first UK Foreign Secretary to go to the South American state for 25 years.
Standing alongside Mr Johnson in the San Martin Palace, Mr Faurie made clear that Buenos Aires was not backing down on its claim to the islands Argentina knows as Las Malvinas, and suggested it still wanted negotiations with Britain over sovereignty.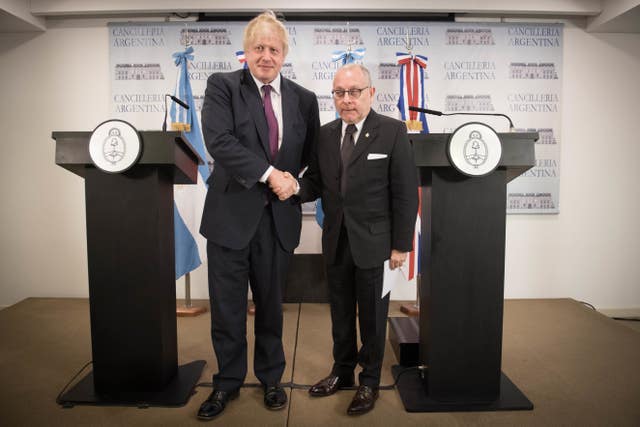 Mr Johnson said: "Our two positions on the sovereignty issue are well known, but that doesn't preclude and shouldn't preclude all we are doing together now to build a partnership and an intensifying commercial relationship."
Mr Faurie said that talks during Mr Johnson's visit "bear testimony to the wealth and richness of our bilateral relationship and to the possibility for the creation of trust without in any way undermining our positions or sovereignty claims, which hold valid for Argentina based upon the historic titles".
Asked whether the Falklands could ever again be the pretext for war between the two countries, Mr Faurie said: "The UK, which throughout its history has been involved in many armed conflicts on a tragic scale in the history of mankind – you are well aware of the fact that going to war is not the best scenario."
"That is one aspect of our bilateral relations but not the only one.
"In addition to that – which is a fundamental aspect – there is a whole set of areas and subjects for co-operation in relation to which we want to rebuild trust.
"I think there [is a] general positive backdrop when it comes to the negotiation over sovereignty."
Mr Faurie said Argentina was "very satisfied" with the support the UK offered with the identification of the remains of troops killed in the Falklands War.
And he said plans were well under way for a new air link between the island and the mainland with layovers in Argentina, with bids in from airlines in Chile, Brazil and Uruguay.
Mr Johnson said he hoped to be one of the first passengers on the new flights.
"When it comes to the flight issue, we seem to be making lots of progress and if and when it happens, I certainly intend to be one of the first passengers on that flight," he said.
Apparently realising how difficult that might be to arrange, he hastily added: "I don't want to be the very first, but I will try to do it soon as I can, given my other very heavy commitments as Foreign Secretary."