The protection offered by two popular sunscreens has been found to plummet in testing conditions replicating swimming pools and the sea, a consumer group has warned.
Which? tested water resistance claims made by two sunscreens – one own-brand and one well-known branded product – and found the sun protection factor (SPF) fell by up to 59% after 40 minutes in salt water.
The watchdog declined to name the two sunscreens, but said they were both representative of the market.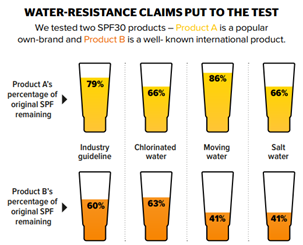 Which? said its findings exposed serious flaws in the current testing regime, which requires a volunteer to be immersed in a bath of tap water that is circulated to simulate moderate activity.
It noted the current tests also allow manufacturers to claim a product is water resistant if the SPF drops by up to 50% after two 20-minute periods of immersion.
Which? carried out its own tests in salt water, chlorinated water and fast-moving water, which it said more closely resembled conditions holidaymakers encounter.
It found the branded product's SPF dropped by 59% after 40 minutes of immersion in salt water and in moving water, while the own-brand product's SPF dropped by 34% in both salt water and chlorinated water.
The consumer group said the current requirements for meeting water resistance claims were "unrealistic to the point of being meaningless".
It warned there was no way for consumers to know what SPF they would end up with after going into the sea or pool when they bought a sunscreen.
Meanwhile, in separate tests Which? found that 15 widely available sunscreens included met their SPF claims.
Last year Which? labelled Avon's Sun+ Multi Protection Moisturising Sun Lotion SPF30 a "Don't Buy" as the product failed its SPF tests.
The sunscreen, which was not one of the 15 tested this year, continues to be a "Don't Buy"' as it has not been reformulated and is still available to buy, the watchdog said.
Nikki Stopford, Which? director of research and publishing, said: "Our research shows water resistant sunscreens don't live up to their claims when subjected to rigorous tests – raising serious questions about the current guidelines.
"With 15,400 new cases of melanoma each year, manufacturers should be required to robustly test their products and make only claims that can be relied on, ensuring holidaymakers know they can trust their sunscreen to protect them."