A couple who killed their French nanny over a bizarre obsession with an ex-Boyzone pop star were branded "monsters" as they were convicted of murder.
Sabrina Kouider, 35, and Ouissem Medouni, 40, built a warped fantasy around music mogul Mark Walton and accused Sophie Lionnet of being in league with him.
Having beaten, imprisoned and tortured the shy 21-year-old to death at their home, they threw the body on a bonfire, the Old Bailey heard.
Fashion designer Kouider collapsed in tears and her banker husband Medouni hung his head as a jury found them guilty of murder after nearly 30 hours of deliberations.
Miss Lionnet's mother, Catherine Devallonne, also wept as Judge Nicholas Hilliard QC said the defendants' claims about her daughter contained "no truth whatsoever".
Mrs Devallonne said: "These self-obsessed individuals who murdered Sophie did not believe Sophie had a value.
"Those monsters repeatedly beat Sophie. They starved, tortured and broke her until she could no longer fight.
"They took away her dignity and finally her life painfully ebbed away until Sophie struggled to take her final terrified breath in the bath.
"Our Sophie will soon be laid to rest. No god will ever forgive you both for what you have done to our daughter."
He said what the couple did to his shy and reserved daughter was "beyond comprehension" and "unforgivable".
Miss Lionnet's parents had travelled from France to see the disturbing evidence as it unfolded.
Over five years, Kouider reported the wealthy musician to police more than 30 times and received a caution for branding him a paedophile on a fake Facebook profile.
She also accused him of sexually abusing a cat, using black magic and hiring a helicopter to spy on her.
Giving evidence, Los Angeles-based Mr Walton said he had been "in love" with Kouider but she would "flip" and go "crazy" for no reason.
Another ex-boyfriend, Anthony Francois, described her as a "lunatic, fickle and unstable".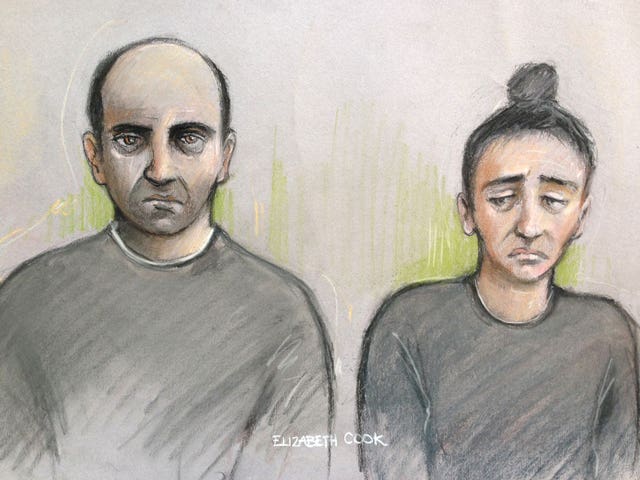 She and her on-off husband Medouni interrogated Miss Lionnet for hours to get to "the truth" .
Jurors heard more than eight hours of recordings in which Miss Lionnet was slapped, likened to a Nazi collaborator and called "worse than a murderer".
Kouider, who claimed to know influential people including US president Donald Trump, threatened to have her locked up and even marched her to a police station.
Mrs Devallonne had begged Kouider to send her daughter home but she refused.
In her final days, Miss Lionnet was hit with an electrical cable and beaten so badly she had five broken ribs and a cracked breast bone.
Within hours, she was dead, having been tortured with water in the bath.
Afterwards, the defendants tried to get away with murder by burning her body in the garden of their flat, near Wimbledon, south west London.
When firefighters were alerted by neighbours to pungent-smelling smoke in September last year, Medouni tried to pass off the charred remains as a sheep.
And Kouider claimed to police that Miss Lionnet had run off with Mr Walton in an attempt to frame him for her disappearance.
The defendants later admitted disposing of Miss Lionnet's body but denied her murder, blaming each other for her death.
According to Kouider, Medouni killed her in the bath then demanded they have sex as she lay dead nearby.
Before the trial, Medouni claimed Miss Lionnet died by accident after he punched her during the interrogation.
He offered to admit manslaughter but later retracted his confession, saying he made it to protect his wife, who has been diagnosed with a borderline personality disorder.
Prosecutor Richard Horwell QC told jurors that neither were prepared to admit the truth – that they killed her out of "revenge and punishment".
Investigating officer Detective Inspector Domenica Catino, of Scotland Yard, said the verdict brought justice for Miss Lionnet.
"I cannot imagine what thoughts were going through Sophie's mind whilst being held a prisoner in those 12 days leading up to her death but from the harrowing images obtained it showed a scared, broken and emaciated young girl who probably knew she was shortly facing death.
"I believe that we are Sophie's voice telling of the torment, abuse and torture she suffered and today she has finally been heard."
She said it had been an "extremely harrowing and tragic case" but the full extent of the "horrors" Miss Lionnet endured will never be known.
Judge Hilliard will sentence the pair at the Old Bailey on June 26.