Heavily-armed pirates and state-backed militias pose a threat to Royal Navy warships including its new aircraft carriers, the country's top admiral has warned.
First Sea Lord Admiral Sir Philip Jones said that as well as the naval challenge from other countries, such as the Russian fleet, there is an increasing threat from "non-state actors".
His comments came as the new £850 million Sea Ceptor missile defence system entered into service.
Admiral Sir Philip said the UK is still around three years away from being able to deploy HMS Queen Elizabeth equipped with F-35B jets supported by escort vessels.
"We are envisaging at the moment an operational deployment of a full carrier strike group – this, of course, will include the frigates armed with Sea Cceptor, the air-defence destroyers, the tankers, the submarines, in about three years' time," he said.
Setting out the need for the new technology, he added: "It's an evolving threat, it's there now from nation states who are capable of contesting Western navies at sea … the Russians are clearly one of the predominant forces there.
He told BBC Radio 4's Today programme that piracy is one element of the threat, but there is also a challenge from groups which are "proxies" for other states, highlighting the Iran-backed Houthi rebels in Yemen.
"They have gone from no maritime capability at all to serious high-end anti-ship missiles, mine-deploying threats and the ability to detect contacts at sea, all in the last two years."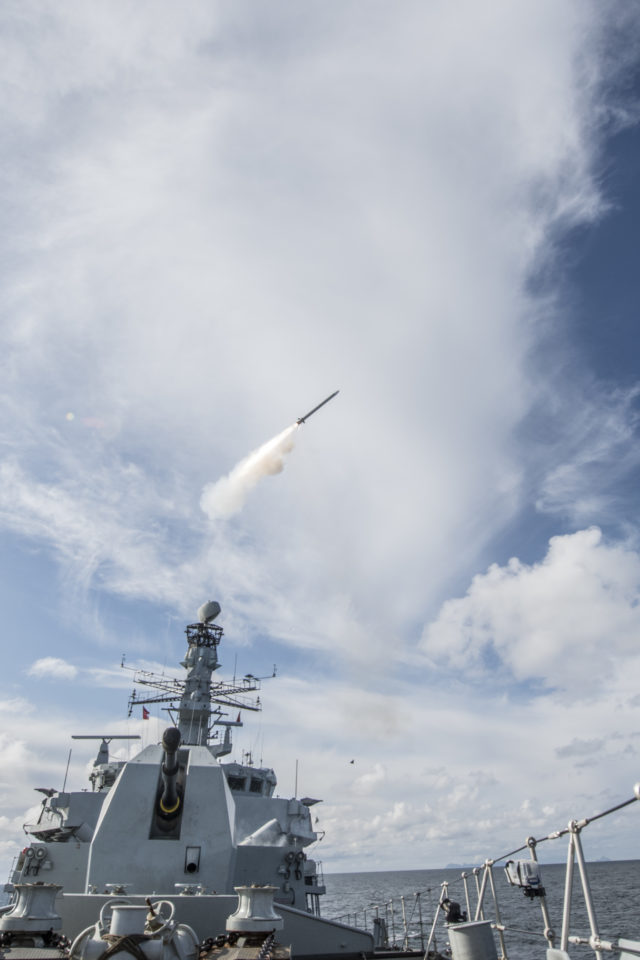 Amid concerns about the future of the Navy's ability to land Royal Marines on enemy beaches, he said: "We need to keep an amphibious capability in the Navy as we go forward, and, as we recapitalise every other bit of the fleet, we need to recapitalise that as well."
HMS Argyll will be the first ship to deploy with the system when she heads to the Asia Pacific region later this year.
Sea Ceptor is being fitted to replace the Sea Wolf system on the Type 23 frigates.