The British economy grew by a meagre 0.1% in the first quarter – the slowest pace in five years – as consumer-facing industries and construction bore the brunt of the pain.
In its second estimate for gross domestic product (GDP), the Office for National Statistics confirmed an earlier reading which showed the economy contracting from 0.4% in the final quarter of 2017.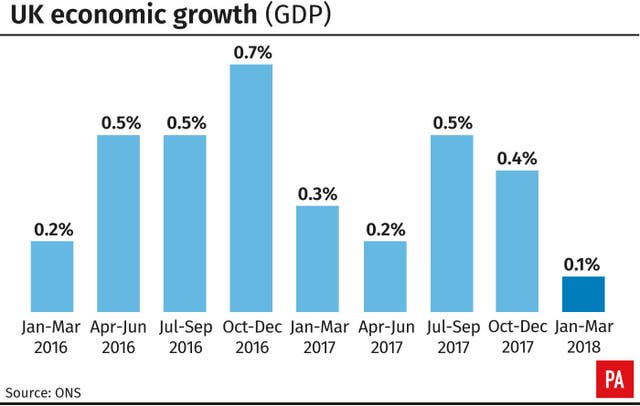 Data shows that construction output declined 2.7% in the period, household spending grew by just 0.2% and business investment fell 0.2%.
ONS head of GDP Rob Kent-Smith said: "Overall the economy performed poorly in the first quarter, with manufacturing growth slowing and weak consumer-facing services."
Once again, the ONS played down the impact of extreme weather as having a major effect on the poor figures, saying that its "overall effect was limited".
"While there was some evidence of the poor weather hitting construction and high street shopping, this was offset to an extent by increased energy supply and online sales," Mr Kent-Smith added.
Oil and gas bounced back strongly, the ONS said, following the reopening of the Forties pipeline.
Howard Archer, chief economic adviser to the EY Item Club, said the extent of the slowdown suggested an "underlying loss of momentum in the economy".
"While growth in the first quarter was clearly savaged by the Beast from the East, the extent of the slowdown has fuelled strong suspicion that there was a significant underlying loss of momentum in economic activity in addition to the weather impact," he said.
The UK's powerhouse services sector – which accounts for around 79% of the economy – increased by 0.3% thanks in part to business services and finance.
Manufacturing growth slowed to 0.2%, though that was partially offset by a rise in energy production due to colder weather.
But the decline in business investment indicates that "Brexit risk still is undermining the otherwise strong case to invest", according to Samuel Tombs, chief UK economist at Pantheon Macroeconomics.
"Negotiations over the UK's longer-term relationship with the EU are likely to remain challenging and uncertain, which will limit the upside for business investment", Mr Archer added.