Ireland has voted overwhelmingly to reform its strict abortion laws.
Campaigners celebrated with champagne after a historic referendum result in which two-to-one polled in favour of change.
The public decided by a landslide to repeal part of the state's constitution which effectively prohibits the procedure unless a mother's life is endangered.
Irish Taoiseach Leo Varadkar said: "I believe today will be remembered as the day we embraced our responsibilities as citizens
and as a country.
"The day we came of age as a country. The day we took our place among the nations of the world."
The poll was held on Friday, with the Government promising to allow the controversial medical intervention in early pregnancy which has polarised Irish society for decades.
It produced conclusive consensus for reform amongst men and women, nearly all classes and age groups and across most counties in Ireland.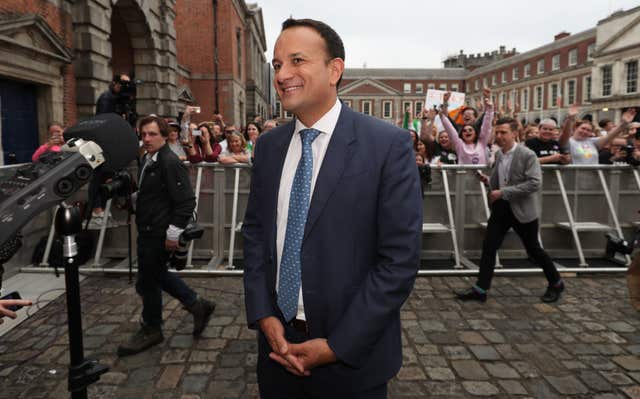 The only constituency to vote no, narrowly, was Donegal in the north-west.
Crowds gathered in the courtyard at Dublin Castle to hear the result began chanting "Savita, Savita", in reference to dentist Savita Halappanavar, 31, who died in an Irish hospital after she was refused a termination while she miscarried.
Her family said the new measure should be called Savita's Law.
Around 200,000 Irish women have travelled to the UK since 1983 for the procedure, Mr Varadkar said, returning home from places like Liverpool with tiny coffins.
Health minister Simon Harris, a prominent voice for yes during the referendum campaign, led victorious supporters in a round of "Yes We Did" chants, a version of former US President Barack Obama's famous campaign slogan.
He said: "Under the Eighth Amendment we used to say to women in crisis: take the boat or take the plane.
"Today we say, take our hand."
Mr Varadkar said: "We voted to look reality in the eye and we did not blink and voted to provide compassion where there was once a cold shoulder."
Thousands were in the castle courtyard by the time the official results were announced on Saturday evening.
Some dressed as angels, while hundreds wore jumpers and T-shirts with campaign slogans.
Maeve Conway, 21, decorated her dog Baby's harness with Yes badges.
"For 35 years we were waiting for this," she said.
"It's a huge change for Irish women."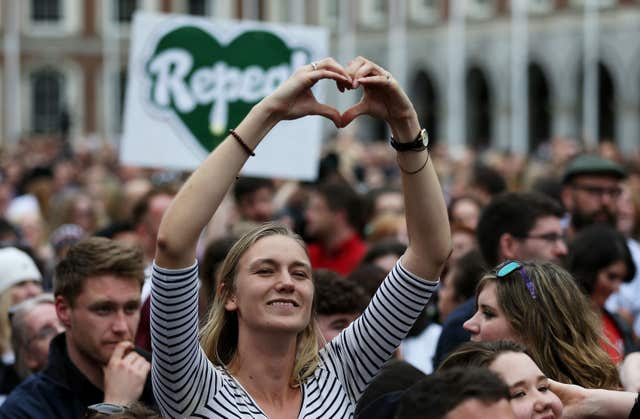 "Everyone respects us and our decisions and it is really feeling there is support … and not to feel that they are going to throw you into a home or ship us off to a foreign country."
Ministers have promised to allow terminations within the first 12 weeks, subject to medical advice and a cooling-off period, and between 12 and 24 weeks in exceptional circumstances.
Labour leader Jeremy Corbyn and Scotland's First Minister Nicola Sturgeon were among those hailing the result.
Sinn Fein president Mary Lou McDonald said the days of exiling women in the most tragic circumstances were over.
North Antrim MP Ian Paisley claimed the unborn child was the big loser, while a leader of the No campaign, Cora Sherlock, said
it was a sad day for those who believed in genuine human rights.