Ireland has voted by a landslide to reform its strict abortion laws.
A two-to-one margin has so far backed the liberalising change in Friday's referendum, with the vast majority of constituencies returned.
Taoiseach Leo Varadkar said the consensus included men and women and nearly all social classes and age groups.
Pollsters suggested the stories of women forced to travel to the UK for terminations or take illegal pills obtained on the internet helped sway public opinion, as well as the death of an Indian dentist denied the procedure while she miscarried.
Addressing thousands of cheering pro-choice supporters in the courtyard of Dublin Castle, Mr Varadkar said: "The people have spoken.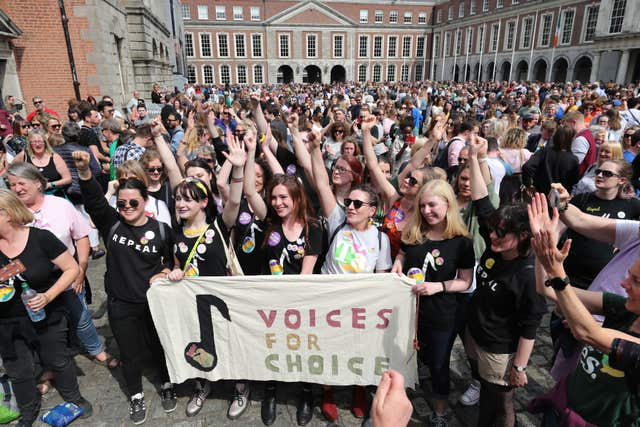 "Thank you so much for making today possible."
Ministers have promised to allow terminations within the first 12 weeks, subject to medical advice and a cooling-off
period, and between 12 and 24 weeks in exceptional circumstances.
Mr Varadkar said the results represented "the culmination of a quiet revolution", one that had been taking place in Ireland for the past 10 to 20 years.
"We are a country that is not divided, a country that says that we respect women, that we trust women and we support them."
He said the result was a mandate to bring forward legislation enabling the procedure and the Government is expected to pass laws by the end of the year.
"The people have said that we want a modern constitution for a modern country, that we trust women and we respect them to make the right decision and the right choices about their healthcare."
A vocal anti-repeal movement conceded defeat.
"However, a wrong does not become right simply because a majority support it."
A decade after the Eighth Amendment was approved, women in Ireland were officially given the right to travel abroad, mostly to the UK, to obtain terminations.
Pro-repeal campaigners say almost 170,000 have done so.
The liberalisation campaign gathered momentum in 2012 after an Indian dentist, Savita Halappanavar, died in hospital in Galway aged 31 when she was refused an abortion during a miscarriage.