Ireland's health minister has pledged to push forward with new abortion laws after the country voted decisively to remove a constitutional bar on terminations.
Simon Harris will seek cabinet's backing on Tuesday to draft legislation that would allow abortions within the first 12 weeks of pregnancy, subject to medical advice and a cooling-off period, and up to 24 weeks in exceptional circumstances.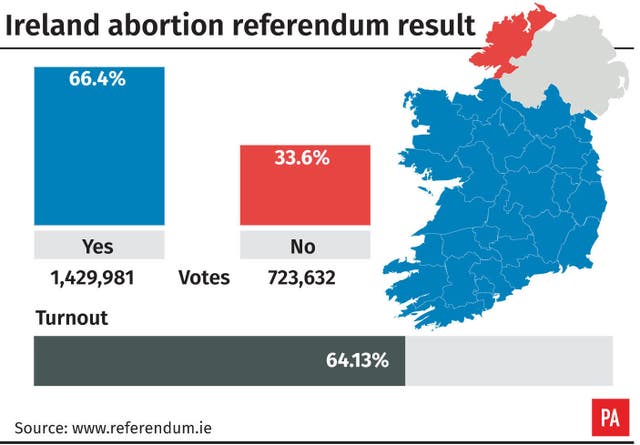 Its passage is not expected to meet significant resistance, with a number of prominent anti-abortion TDs acknowledging that the will of the people must be respected.
The Government hopes the new abortion regime will become law by the end of the year.
Those campaigning for liberalisation secured a stunning victory on Saturday, after it was confirmed that 66.4% of voters in Friday's referendum backed repeal of the controversial Eighth Amendment of the constitution, which bans abortion in all but exceptional circumstances.
The vote did not set new laws in itself, rather gave politicians the freedom to do so unhindered by a constitutional prohibition.
The Government made clear ahead of the referendum campaign the type of abortion regime it would seek to introduce if the Eighth Amendment was consigned to the history books.
As the result was announced on Saturday, Mr Harris, who was at the forefront of the Yes campaign, told thousands of celebrating pro-choice advocates at the Dublin Castle declaration venue that Ireland would support women in crisis pregnancies.
"Under the Eighth Amendment we used to say to women in crisis: take the boat or take the plane," he said.
"Today we say, take our hand."
Taoiseach Leo Varadkar said Saturday would be remembered as the day Ireland "embraced our responsibilities as citizens and as a country".
"The day Ireland stepped out from under the last of our shadows and into the light," he added.
"The day we came of age as a country. The day we took our place among the nations of the world."
The referendum delivered a conclusive consensus for reform among men and women, nearly all age groups and across most counties in Ireland.
The only constituency among 40 to vote no, narrowly, was Donegal in the north-west.
The result has also shifted focus to Northern Ireland's similarly strict abortion regime, with Prime Minister Theresa May facing calls to act.
Northern Ireland will soon become the only part of Britain and Ireland with an almost blanket ban on terminations.
Liberal Democrat leader Sir Vince Cable was among those telling Mrs May to take advantage of the current lack of a devolved administration and push for reform from Westminster.
North Antrim MP Ian Paisley claimed the unborn child was the big loser of the referendum, while a leader of the No campaign, Cora Sherlock, said it was a sad day for those who believed in genuine human rights.