A new pink tartan created to raise funds for cancer research has been modelled by the First Minister.
Nicola Sturgeon was presented with a Friends of Cancer Research UK scarf, designed by fundraiser Elaine Monro and created by Lochcarron of Scotland.
Profits from the sale of a range of products in the pink, purple and turquoise design will fund research into the disease.
The First Minister said: "This special Friends of Cancer Research UK tartan is a great, innovative idea to help raise money for what is an incredibly important cause.
"Cancer is something that sadly touches the lives of so many in society, and the clinical research of the type carried out by Cancer Research UK is vital in our attempts to beat it. I hope that the sales of this wonderful tartan raise much needed funds for their work in the future."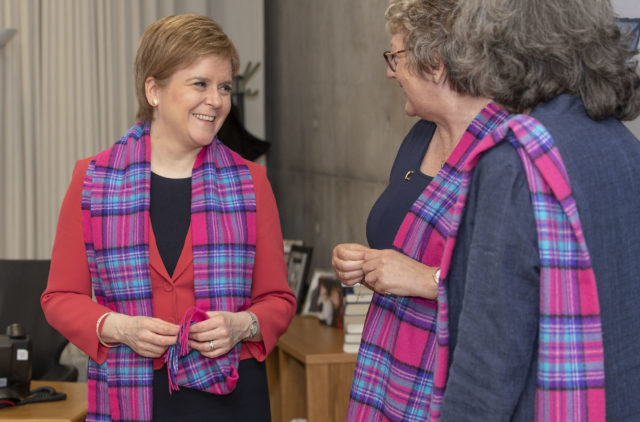 She said: "No matter who you speak to, most people will have a story of a loved one, close friend, work colleague or neighbour with the disease.
"Selkirk is a close and caring community, so over the years I've got to know a lot of families going through this very hard time and I hope the tartan will support patients and their families.
"I came up with the idea of creating a tartan in Cancer Research UK colours while having coffee in the Lochcarron of Scotland shop in Selkirk. It struck me as such a great way to raise funds. I can't thank Lochcarron of Scotland enough for their enthusiastic support at every stage of the process."