One of Rod Hull's last surviving Emu puppets has gone to live with Orville the Duck and George from Rainbow.
The puppet, which was made in the mid-to-late 1980s for TV production company Endemol, was bought at auction by the man behind CBBC's Hacker the Dog, the puppeteer Phil Fletcher.
Mr Fletcher, from Wigan, bid over the phone for the much-feared bird and paid £8,680 including buyer's premium when it went under the hammer at Chippenham Auction Rooms, in Wiltshire.
The puppet was originally forecast to sell for between £750 and £1,000.
Mr Fletcher, who also makes and collects puppets, said: "I'm 41 so I vividly remember seeing Emu on television when I was growing up.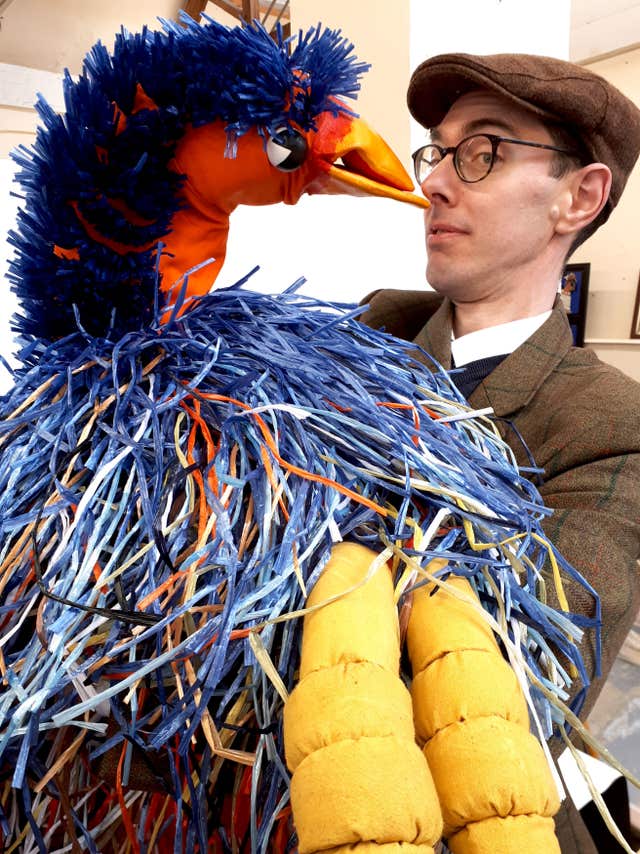 He said the puppet will sit on the couch at his home in Wigan alongside George, the pink hippo from ITV's 1970s and 80s children's Rainbow.
Bafta-nominated Mr Fletcher has been operating Hacker the Dog on CBBC since 2009 and has over 30 years' experience as a professional puppeteer.
Among his collection of puppets is a version of Keith Harris's Orville, used in a television advertisement for Surf washing powder, and Sooty and Sweep.
The Emu puppet was made a pilot TV show and cost £10,000 to construct.
The TV show's producer Endemol ultimately decided to use a different version of the puppet, so this one was kept in reserve, hence its excellent condition.
Principal auctioneer Richard Edmonds said: "There was some fierce bidding over the phone and internet for the Emu puppet.
"Collectors and puppet aficionados clearly feel very passionately about this character. I don't think Mr Fletcher's other puppets are going to know what's hit them when Emu arrives in Wigan."
The Emu puppet was sold by a private collector from Radstock, Somerset.
English comedian Rod Hull first used Emu on an Australian television show, then returned to the UK and established the act here.
The puppet infamously destroyed the Queen Mother's bouquet of flowers after the 1972 Royal Variety Performance and, most famously, attacked talk show host Michael Parkinson on his BBC1 programme in 1976.
During the late 1970s and 1980s, Hull and Emu had a series of shows on ITV, but by the late 80s the act was losing its popularity and the star got into debt.
He died in 1999 when he fell from the roof of his home while attempting to adjust his television aerial.