The nation has remembered victims of the London Bridge terror attack with a minute's silence.
A memorial event was held near the scene one year on from the atrocity which killed eight innocent people, with friends and families laying flowers as the names of the dead were read aloud.
Hundreds – including Prime Minister Theresa May, London Mayor Sadiq Khan and Metropolitan Police Commissioner Cressida Dick – lined streets around Southwark Needle as grieving families hugged and wiped away tears following a service at Southwark Cathedral on Sunday.
Khuram Butt, 27, Rachid Redouane, 30, and Youssef Zaghba, 22, who wore fake suicide vests, were shot dead by police just eight minutes after the first emergency call.
A doctor who tended to victims remembered a "colourful" colleague killed in the rampage, saying the anniversary was particularly emotional as he had seen her at work that day.
Consultant John Chatterjee, who works at Guy's Hospital, paid tribute to Australian nurse Kirsty Boden, 28, saying: "She was always very colourful, very, very professional and really good at her job.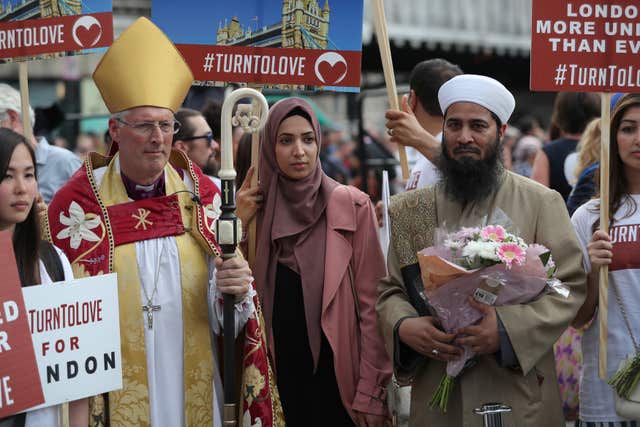 "Today has been a challenging time for me personally."
Dr Chatterjee and Mike Christian were both on duty for London's Air Ambulance on the night, with Dr Christian adding: "Today was my first time walking over the bridge since then, it was very surreal.
"I could see vivid images of where people were lying… in this job you see some of the most difficult things.
"We have to recognise talking about it is one of the most important things to do."
Many emergency service staff were in attendance, including British Transport Police officer Wayne Marques, who suffered major injuries after fighting off the terrorists with only his baton.
The 39-year-old is to be afforded a special honour when a corbel, a type of structural stone, bearing a likeness of his face is placed in the north quire aisle of the cathedral.
Dignitaries including Labour leader Jeremy Corbyn and Home Secretary Sajid Javid were invited to lay flowers alongside people injured in the attacks.
A floral wreath from Mrs May read: "We will never forget those who died and will never surrender to hatred and division."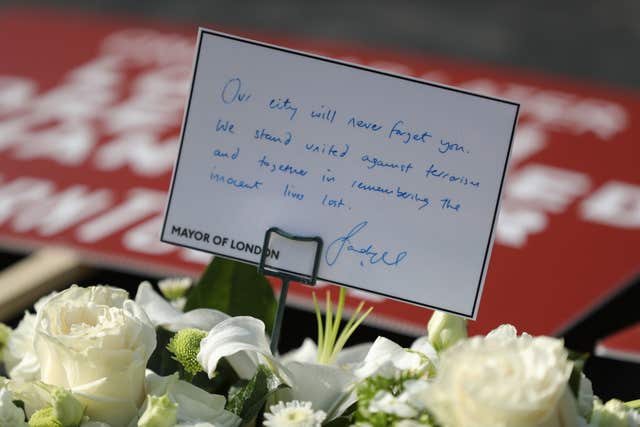 A service of commemoration was held at the cathedral earlier on Sunday, with family members lighting candles in memory of loved ones who died.
Dean of Southwark Cathedral Andrew Nunn told the 700-strong congregation: "I hope it helps our healing.
"Whatever your hopes are, whatever your pain is, whatever has kept you awake at night, whatever anger, sorrow or guilt you are feeling: God is here for you.
"Love is stronger than hate, light is stronger than darkness and life is stronger than death.
"It was true a year ago. It is as true today."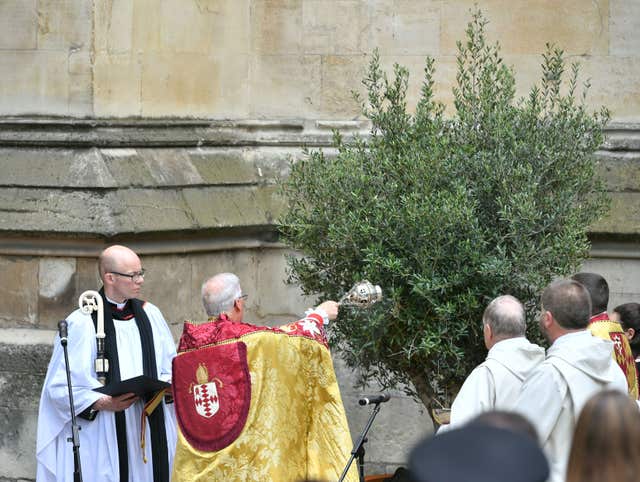 Ahead of the day's commemorative events, the Prime Minister recalled "stories of courage" which emerged from the attack.
She described it as a "cowardly attempt to strike at the heart of our freedoms by deliberately targeting people enjoying their Saturday night with friends and family".
Mrs May said: "Today we remember those who died and the many more who were injured, and also pay tribute to the bravery of our emergency services and those who intervened or came to the aid of others.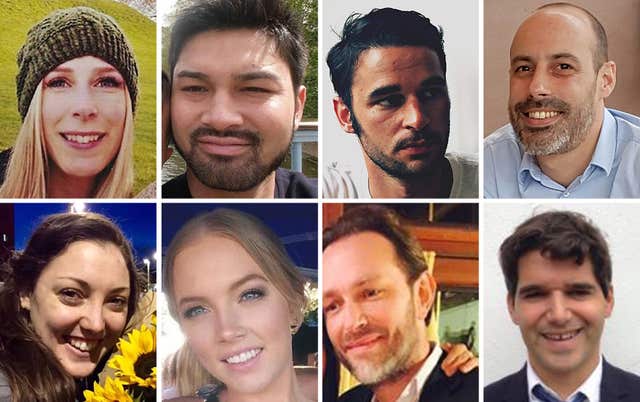 Those killed in the attack were Canadian Christine Archibald, 30, James McMullan, 32, from Hackney, Frenchmen Alexandre Pigeard, 26, Sebastien Belanger, 36 and Xavier Thomas, 45, Australians Kirsty Boden, 28 and Sara Zelenak 21, and Spaniard Mr Echeverria, 39.