Russia's hooligan football fans have been given a "clear signal" by the security services not to cause trouble at the World Cup, according to experts.
Fears of a repeat of the violence between England and Russia fans in Marseille during Euro 2016 have sparked a major crackdown on the ultras element of the Russian fanbase.
And, while police and experts who monitor hooligan firms acknowledge the risk cannot be totally removed, neither expect the kind of organised, "hyper-violent" disorder seen in France.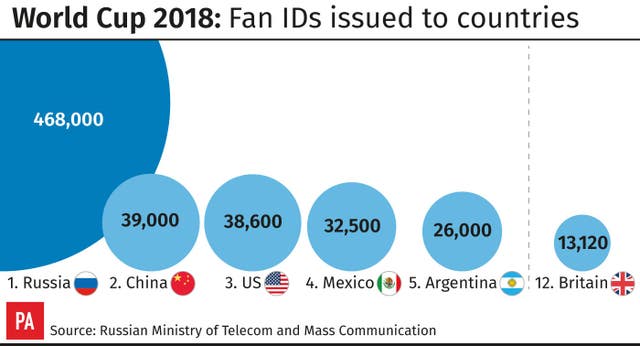 Ilia Artemiev, of the Moscow-based Sova Centre think tank, said there had been at least 14 criminal cases against football fans on hooliganism and "extremism" charges in the last three years.
One radical group known as T.O.Y.S, a faction of fans of the second-tier club Krylya Sovetov Samara, was ruled an "extremist community" by a Russian court last year and Prosecutor General Yuri Chaika said last month that a plot by the group to sabotage World Cup games in the city was foiled.
England could play in a quarter-final in Samara if they finish second in Group G and win their first knockout match.
But Mr Artemiev said any disorder would be an embarrassment to Russian President Vladimir Putin at home, as well as internationally.
"Basically, the ultras and the hooligans were given a clear signal to behave well if they don't want serious problems.
"Much is at stake for the authorities, so, if violence breaks out, it will be a severe blow for the reputation of the Kremlin – not only abroad, where its image is already damaged, but also domestically, in the eyes of ordinary Russians."
Pavel Klymenko, Eastern Europe development officer for the anti-discrimination group Fare Network, said: "I think the possibility of violence was a big concern since 2016 and Marseille.
"The Russian hooligans are way more afraid of the Russian security services than have the desire to fight.
"They have been talked to, they have been warned not to. Many of them have had meetings with the authorities and they are obliged not to organise or participate in violence during the World Cup.
"Many of them are singing the papers, their homes were searched and some of them are getting into World Cup banning orders.
"There are around 400 names on this 'blacklist'."
Julia Amatuni, an academic in the anthropology department at the European University in St Petersburg, said the crackdown started even before Euro 2016, after Russia was awarded the World Cup in 2010.
She said: "The key hooligans have been located by the police and now are either in prison or avoiding the risk of provocatively active fighting on the streets of big cities."
Mr Klymenko added: "The joke is going around that 'you guys take a long vacation for the time of the World Cup or the security services will organise a longer vacation'."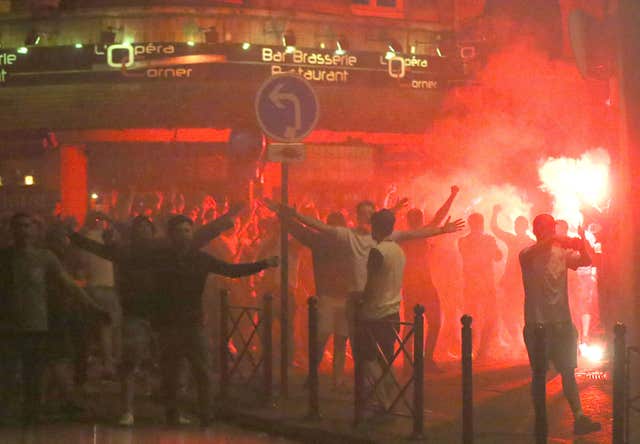 There are also links to, or sympathies with, far-right ideology and nationalism among elements of the hooligan firms, prompting fears that short tempers in the face of perceived provocation could mean violence spontaneously erupting.
Mr Artemiev said: "It's true that the hooligans are mostly sympathetic to the far-right, although it doesn't mean that all of them are active in politics or even underground neo-Nazi structures."
But he added: "Unlike their predecessors, contemporary football hooligans are concerned about healthy lifestyle, sports, gyms, MMA etc – and the far-right views constitute a good ideological base for this type of lifestyle, as it's generally viewed as a rejection of the contemporary, vicious lifestyle and a turn back to the healthy roots of the nation."
He said authorities had applied the "strictest measures" to nationalists, and neo-Nazis in particular, with a significant number of neo-Nazi gangs sent to jail and estimated hate crimes down.
Mr Klymenko suggested some elements may be beyond FSB and police control but the biggest threat may come if they feel provoked.
"This is all kind of temporary – the security services are talking to hooligan leaders thinking they can control it," he said.
"The structure is not as vertically integrated as one would imagine – there are plenty of smaller groups.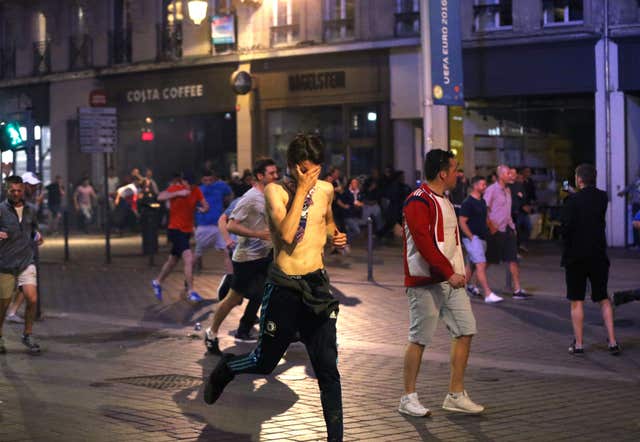 "If they feel provoked they can react with something physical. This would also be seen as legitimate in the eyes of the authorities.
"The rhetoric is 'come as a guest, behave as a guest'."
Ms Amatuni said major firms have dependent offshoots, while the hierarchy would organise fights to test the mettle of younger recruits.
She said: "There is a leader and the most experienced 'older' lads and there are the younger ones.
"Often the biggest and the most famous hooligan groups have not just young among themselves but they have a separate group, or groups, of youngsters depending on them.
"The 'older' lads often do the training with the young ones, organise sort of examining fights, where young lads would fight with their counterparts from different hooligan groups.
"So a lot of the hooligans do personal training in martial arts but also groups tend to train to fight together in order to know their peers better, come a real fight. "