Businesswoman Lynne Franks, the women's rights advocate and PR guru who inspired Absolutely Fabulous, has said the timing of her receiving an OBE has been "absolutely perfect".
The 70-year-old, from Wincanton, Somerset, collected her honour, for services to business, fashion and women's empowerment, from the Prince of Wales at Buckingham Palace.
Ms Franks said: "It is really an award for all women and it is so symbolic of where we are right now in society."
She added that it is particularly special for her, given everything that is going on in the world, from the Me Too campaign to the growing recognition and success of women's sport and even the new Duchess of Sussex.
"I think that the timing of this is absolutely perfect. I have just turned 70 and it is symbolic for me personally because I have worked in a number of industries and I have got the honour for three of them.
"It is also wonderful in the royal family to see the new Duchess of Sussex commit herself to women's empowerment.
"It is something that is really going through society but I do not feel we should get smug. There is so much more to do so that we can have a gender-balanced society."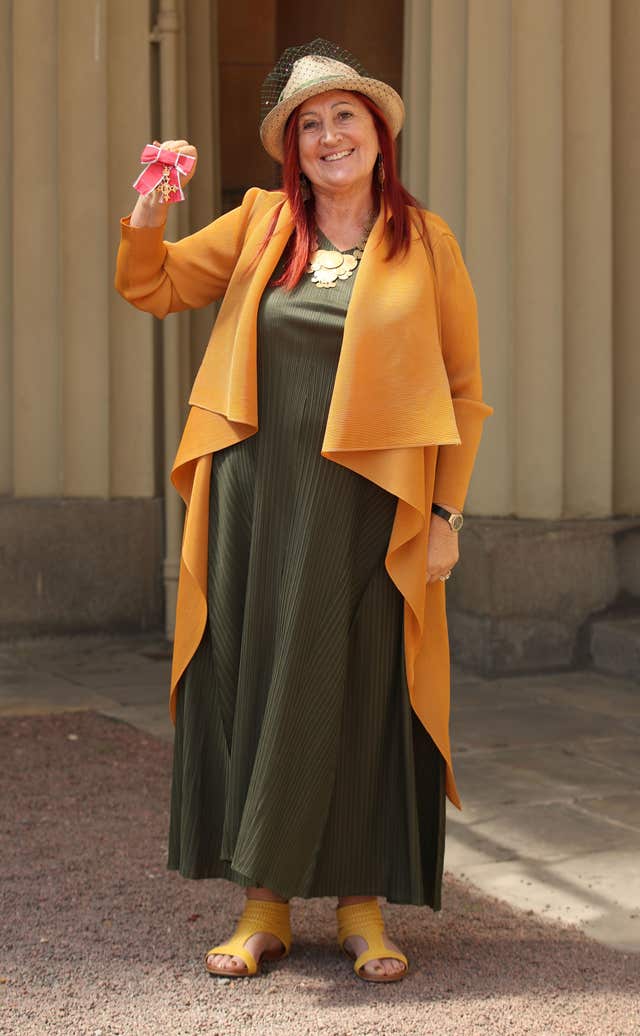 She said she feels it is important to have strong different female role models and was enchanted by the royal wedding.
"The fact that there were so many people of colour at the service and the fact that Meghan is of mixed blood. This is the modern world and it is extremely important that the royal family are very much part of that modern world.
"I had total joy from the whole ceremony and what it meant to people who have not always been on the front line of society. It was very symbolic."
Even her link with the ever-popular comedy Absolutely Fabulous no longer "upsets as much as it used to".
Jennifer Saunders, who created hit BBC sitcom, was a client and is said to have used Ms Franks' lifestyle as inspiration for character Edina Monsoon.
Saunders went on to play the role of Edina in the show.
Ms Franks, who has just launched a mentoring programme for older women to act as role models to younger women, said: "It is a very funny programme and I love it but it can get a little bit tedious when it gets mentioned every time.
"If it creates an interest in me and I can then talk about things I really care about, then it us a really useful and helpful tool. It has given me a lot of exposure perhaps to then talk about things I really care about."
Ms Franks said that women's empowerment has been the focus of her work for the last 20 years.
She wrote The Seed Handbook, a guide for women setting up sustainable businesses, in 2000 which sparked a series of workshops taught in settings including women's prisons and war zones.
More recently, she has worked with women in Greek refugee camps and continues to campaign for equality.