A British backpacker helping with the "harrowing" volcano relief effort in Guatemala has described panic as a fresh eruption sparked an evacuation of areas surrounding the Volcan de Fuego.
Late on Tuesday the Foreign Office updated its advice to Britons in the area as the volcano continued to go through a period of increased activity.
A number of backpackers from the UK and Ireland are said to have volunteered to help with the relief effort in the wake of Sunday's eruption which left at least 75 people dead.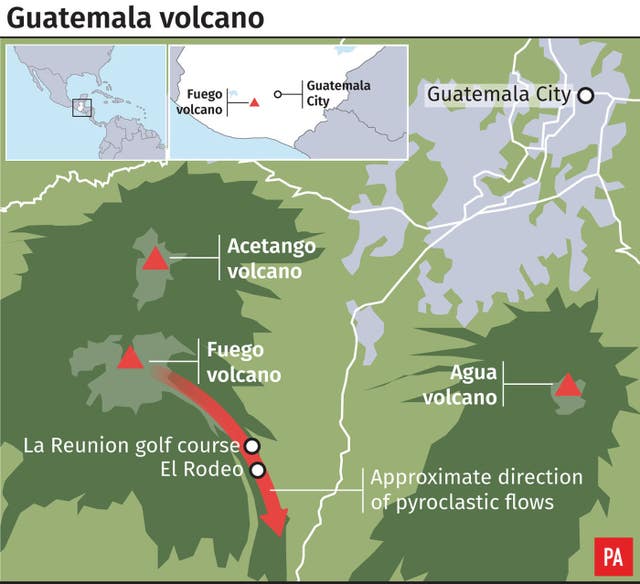 "There was a lot of panic… we had just arrived in Alotenango and had to turn around. A policeman told us the area was being evacuated," he told the Press Association.
"There was a traffic jam because the roads are not built for all the aid vehicles that have come to help."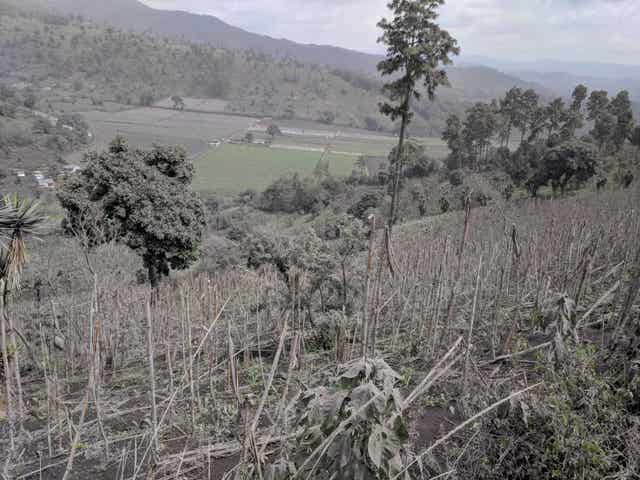 Meanwhile, strong explosions blew ash more than 16,000 feet (5,000 metres) above sea level, with volcanic material blown over settlements to the east and north-east.
Mr Goldsmith said: "We heard the eruption, it sounds a lot like thunder – every time I hear thunder I think 'not again'.
"The weather has also been a problem, the heavy rain is a concern as mudslides are a risk. We are very much in the wet season now."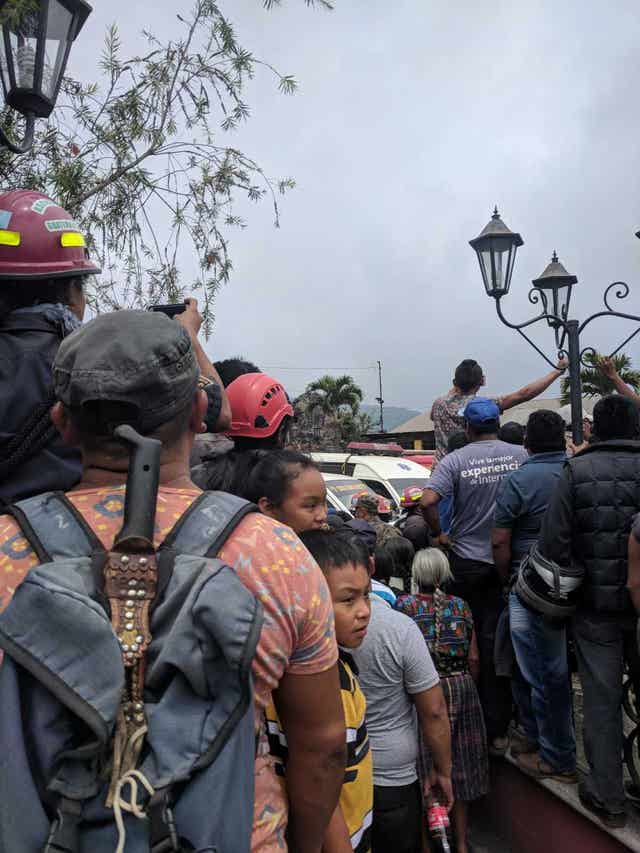 He said there were a number of people from the UK and Ireland volunteering with the relief effort, along with backpackers from the US, Canada and Europe.
"There have been a lot of ups and downs, some harrowing stuff and heart-warming stuff," he said.
"We've been driving to the more isolated parts. We went to a village today where they did not have any running water and relied on rain water.
"Now they are completely without water because of the ash, they don't have food because all the crops are destroyed. The sulphur in the volcanic ash means they won't be able to grow anything.
"I saw a woman who had miscarried as she got out of one of the towns and in Alotenango they had coffins lined up in the centre outside."
Meanwhile, volcanic ash falling on nearby villages and towns has seen people told to stay out of the rain due to high levels of sulphur in the air.
This has hit the town of Antigua, where many of the volunteer relief workers are based.
Dean Kerlin, 32, from Londonderry, owns the Tropicana Hostel in the town from where a volunteer relief operation was being run.
He told the Press Association: "It's been a long couple of days.
"I've got a big van at the hostel we use for tours, we've been using it to take supplies from Antigua.
"Everyone's been pulling together, the travelling community, all the backpackers and holidaymakers.
"They have been donating their time and money to the cause, buying medical supplies and food and water for everybody who lost their homes."
Along with volunteers from England, Sweden and Canada, he travelled to some of the smaller towns and villages to drop off supplies on Monday and Tuesday.
"The worst situations I have seen are the people who have lost their homes, lost everything.
"They have come from little towns, they are pretty poor, they didn't have an awful lot to begin with. A lot of them have lost family members.
"I was chatting to a guy who was driving one of the vans with supplies, he had lost four or five family members – uncles, aunties, cousins – but he was still helping out.
"He was fighting back tears while he was driving to the market to buy things."
Mr Kerlin said he feels safe in Antigua, but added: "I'm not sure if that's just naivety."
While the volunteers' immediate efforts are focused on delivering essential supplies to those affected by the disaster, there are concerns for the long-term impact on the area.
"I don't think the villages will be the same again," he said.