Theresa May has told Israeli counterpart Benjamin Netanyahu she is concerned about the shooting of Palestinians during a wave of protests at the Gaza border.
The Prime Minister stressed she recognised Israel's right to self-defence but called on Mr Netanyahu to take action to alleviate the situation.
The pair are also at odds over the Iran nuclear deal, with Mrs May restating the UK's commitment to the agreement, which Israel opposes and US President Donald Trump has pulled out from.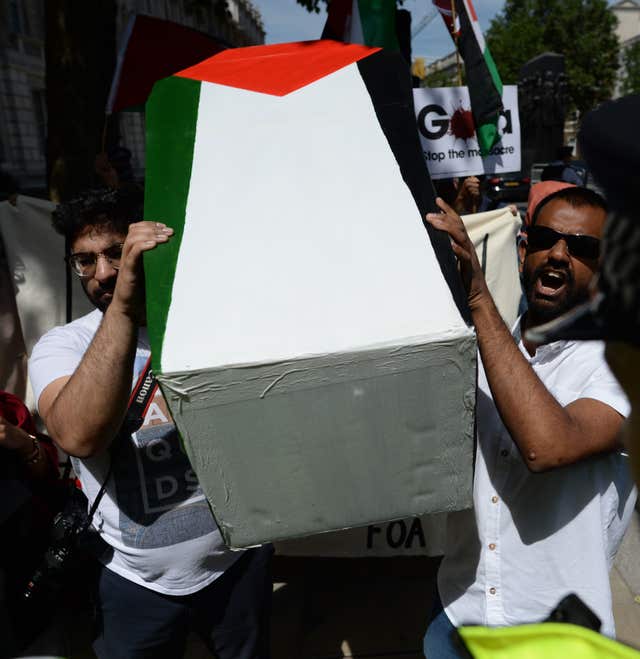 Mrs May told him the UK was "concerned about the loss of Palestinian lives" in the recent Gaza protests.
She said the UK "absolutely recognises" the right that Israel has for self-defence against the activities of "extremists and terrorists".
"But with 100 Palestinian lives lost and a deteriorating situation in Gaza I hope we can talk about how we can alleviate that situation and how we can ensure that we can get back to a position where we are able to find a way through to talk about a two-state solution."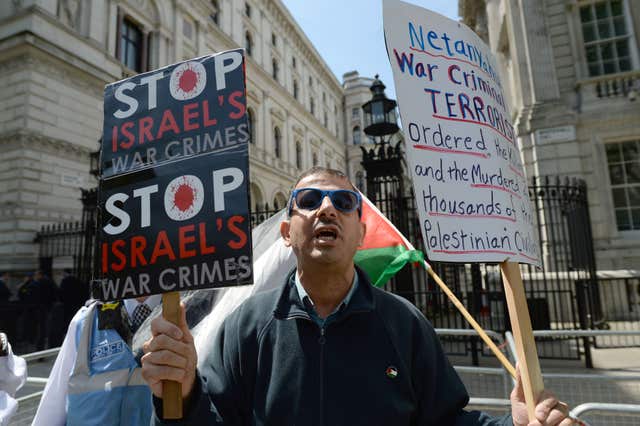 "This is not a non-violent protest, quite the contrary," he said.
"We are doing everything we can to both minimise casualties and at the same time protect Israeli lives."
But Mrs May said: "Along with France and Germany the UK continues to believe that is the best route to preventing Iran from getting a nuclear weapon.
"We will remain committed to it as long as Iran meets its obligations.
"But we do recognise that there are other issues that need to be addressed in relation to Iran – its destabilising regional activity in countries like Syria and Yemen and also the the proliferation of ballistic missiles."
Mr Netanyahu told Mrs May he was focused on making sure Iran did not get a nuclear weapon and "how to roll back Iran's aggression in the region".
"I think we can find ways to work together to achieve both goals," he said.
Following the meeting, a Downing Street spokesman said: "The Prime Minister told Prime Minister Netanyahu that she was deeply concerned by recent rocket attacks from Gaza and, as a friend of Israel, reiterated the UK's support for Israel's right to self-defence.
"She said the Palestinians had a right to protest but it was important that these protests be peaceful.
"She said there was, however, concern about the scale of casualties in Gaza in recent weeks, and around Israel's use of live fire.
"The Prime Minister noted the importance of seeing the situation in Gaza swiftly alleviated and parties moving back towards direct negotiations for a two-state solution."
Foreign Secretary Boris Johnson used a meeting with Mr Netanyahu to reiterate the need for Israel to "carry out a transparent, independent inquiry" into the loss of Palestinian lives during Gaza protests.
Mr Johnson said Britain was "very concerned by the deaths of over 120 Palestinians in recent weeks and the deteriorating situation in Gaza".
He added: "The people of Israel and Gaza have the right to live safely in peace, without constant fear for their security.
"We continue to press both Israel and the Palestinian Authority on the need to refrain from actions which make peace more difficult.
"Settlement construction is a significant barrier to achieving this goal, as are terrorism, incitement to violence, and the refusal by some to acknowledge Israel's right to exist.
"The UK has an unwavering commitment to Israel's security and stability and we look forward to continuing to work together to achieve our common goals."