Nightclub owner Peter Stringfellow will be remembered not only for his successful business empire, but for the charismatic personality that launched him to stardom.
The businessman, who died at the age of 77 on Thursday morning after a battle with cancer, was known for a flamboyant style which helped him become a magnet for celebrities across the world.
Over six decades, A-list stars flocked to perform and party at his string of clubs – with his eponymous London club, on Upper St Martin's Lane, becoming one the capital's longest-running nightlife venues.
After leaving college at the age of 15, he took a string of jobs, including at a cinema in Sheffield, before enrolling as an apprentice in the Navy.
His sailing career lasted two years, after which he returned to his home city. It was following a brief stint in prison for selling stolen carpets that his nightclub career began.
In 1962, Stringfellow began renting St Aidan's Church hall in Sheffield every Friday night, known as the Black Cat Club, and booked several bands to play there – including the Pursuers and Dave Berry and the Cruisers.
On April 2 the following year, The Beatles played – and it proved the turning point in Stringfellow's career.
He went on to arrange concerts at another venue in the city, the Blue Moon Club, where he attracted the likes of The Kinks, before he opened King Mojo Club in 1964.
Over the next three years, bands and singers such as The Who, Pink Floyd, Rod Stewart and Elton John played at the club, while some of the first Motown acts to perform in the UK also headed there.
Venues in Leeds and Manchester followed, before Stringfellow moved to London in 1980 and opened Stringfellows Covent Garden.
The Upper St Martin's Lane venue was an immediate hit, and became frequented by international film and rock stars and all manner of celebrities, as did his subsequent clubs in New York, Miami and Los Angeles.
In the 1990s, Stringfellow introduced table dancing into his New York and Covent Garden clubs, before opening an adult entertainment club – Angels – in Soho in 2006.
Unlike his parents – who stayed married their whole lives – Stringfellow had an eventful love life which saw him wed three times.
In an interview with The Guardian in 2012, he said: "The first time, I got married to the first girl I met when I left school, as that's what you did in those days.
"We had a daughter and I walked out when she was about two-and-a-half years old.
"The second marriage lasted 24 years, but my business came first and along with that came the opportunity to have other women, and I took full advantage."
His five-year marriage to Norma Williams, whom he married in 1960, produced a daughter named Karen.
Son Scott resulted from his 1967-1989 marriage to Coral Wright.
In 2009, the nightclub pioneer married 27-year-old former Royal Ballet dancer Bella Wright and the pair's two children Rosabella and Angelo were born when he was in his 70s.
Last year, he chose his London club as the venue for his children's naming ceremony.
In an interview with Hello! magazine, he said: "We were offered Westminster Cathedral, but I said no.
"It would have felt hypocritical. None of that religious stuff sits well with me.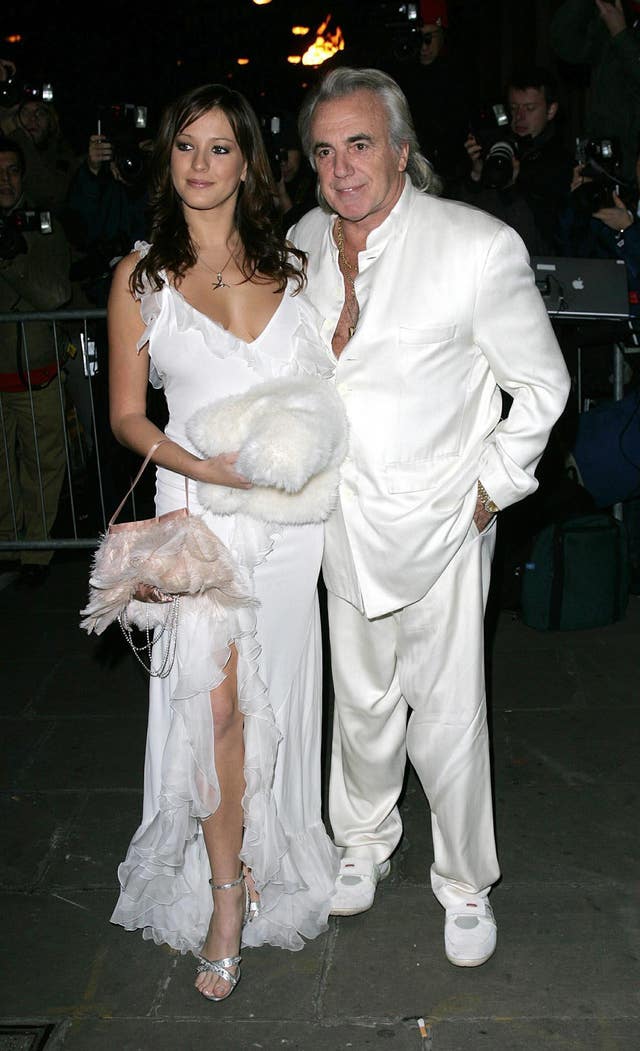 In 2015, the nightclub mogul revealed he had secretly fought lung cancer in 2008, telling only a handful of friends and family to avoid unwanted attention.
Stringfellow was also grandfather to Taylor, Jaime, Thomas and Isabelle.