A "football mad" eight-year-old has won the chance to lead England's players on to the pitch ahead of the Three Lions' World Cup game against Panama.
Alysia Singh, from Huddersfield, West Yorkshire, will carry the match ball on to the field of play at Nizhny Novgorod Stadium on June 24 under the watchful eye of millions after winning a competition organised by tournament sponsors Kia.
The Terriers fan said she is hoping to meet some of her heroes, including her favourite players Harry Kane, Jamie Vardy and Marcus Rashford, in the tunnel before the match.
She is the only UK winner of the competition, which will see 64 children from across the globe take on the roll of ball carrier in World Cup games in Russia.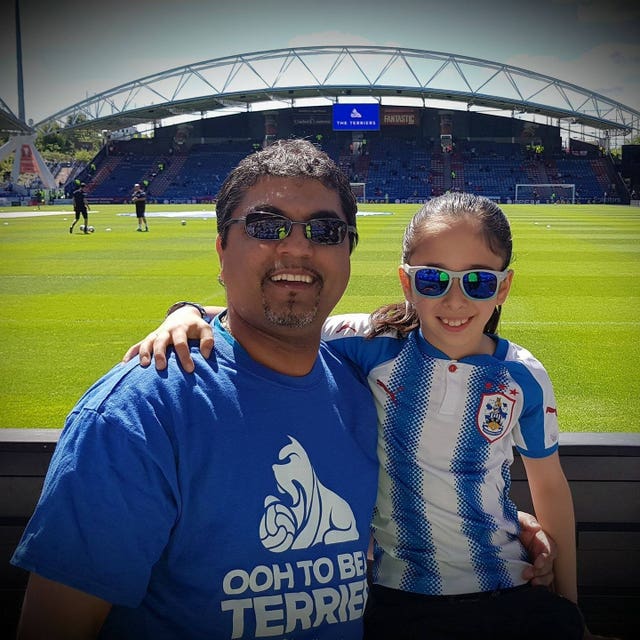 "Alysia is mad crazy about football and I thought 'there's nothing to lose'," the former college tutor said.
"I thought we might win a T-shirt or a signed ball – you never think you are going to win.
"We did a little video of her doing some Ronaldo chops and scoring goals and put a link on their Facebook, saying she used to be crazy about princesses and fairies and now she's football mad.
"On the day of the announcement they sent me a text saying 'she's won' – I thought 'is this a joke?'
"It's a bit crazy."
The all-expenses paid trip to Nizhny, Russia's fifth largest city, will be Alysia's first overseas, and she did not even have a passport when she found out she had won.
When she learned of the news, she told her mother Karen Whitehurst: "Mummy, I might need a passport – I might be going to Russia."
Alysia, who plays football three times a week including at the Tomorrow's Terriers scheme run by Huddersfield Town Foundation, added: "It was kind of a bit of a shock.
"In my assembly, I stood up and told all the children and all the boys were really shocked – they might have been a bit jealous.
"I'm looking forward to going on to the pitch with the players behind me – I'm really excited I might be able to meet some of the England players."
Her father said they had been practising a Dele Alli-style handshake in case she got the opportunity to meet the Spurs star, and he hoped to be in the tunnel nearby to help calm any last-minute nerves.
Alysia said her family and friends were "really excited" to see her on TV and would be cheering her on.
And the youngster is hopeful for England's chances in the tournament, saying: "I hope because we have got really good players, I think we might even have a chance to win the World Cup."