Hezbollah flags flew in central London as supporters were locked in a noisy standoff with counter-protesters.
Pro-Palestine protesters chanted "free free Palestine" beneath the yellow flag which is adorned with a gun, yards from the Saudi Embassy in the annual Al Quds Day rally.
A line-up of uniformed police formed a guard between them and the building. Security was very visible.
Just yards away stood an equally loud counter-demonstration, including speakers who led that crowd in a shouted chorus of "terrorist flags off of our streets" and "we want peace, they want war".
The gap between the two opposing sides was filled with a heavy presence of uniformed police.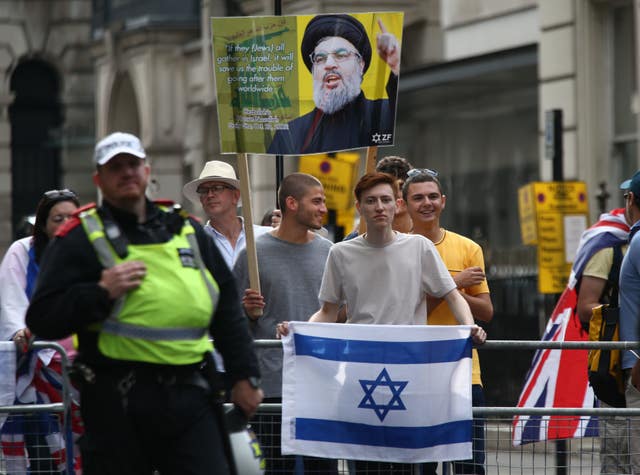 Police were not stopping demonstrators from flying the flag of the Iran-backed Lebanese Hezbollah group.
The counter-demonstrators called for a ban of Hezbollah in its entirety.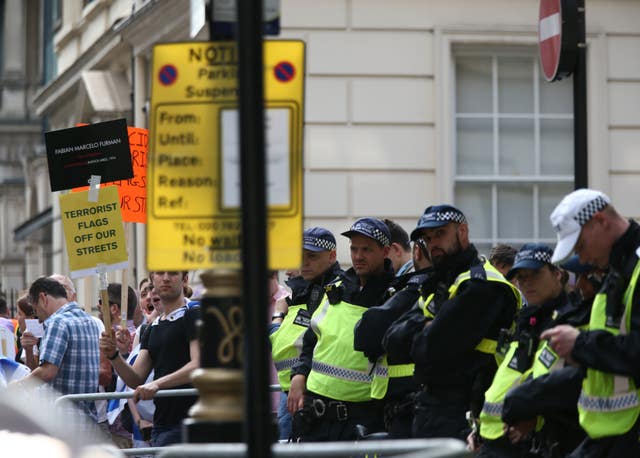 "We hear there are two wings to Hezbollah, the political wing and the military wing. There is not."
He led them in a cry of "take it down, take it down."
Protesters from both sides had travelled from across the country to be at the event which was within walking distance of London's busy Oxford Street shopping, tourism and business district.
Counter-demonstrators yelled "the hate-filled flag of Hezbollah has no place in London".
They stood behind a blue and white banner which said "free Gaza from Hamas" and also waved banners with the names of people they claimed were victims of Hezbollah.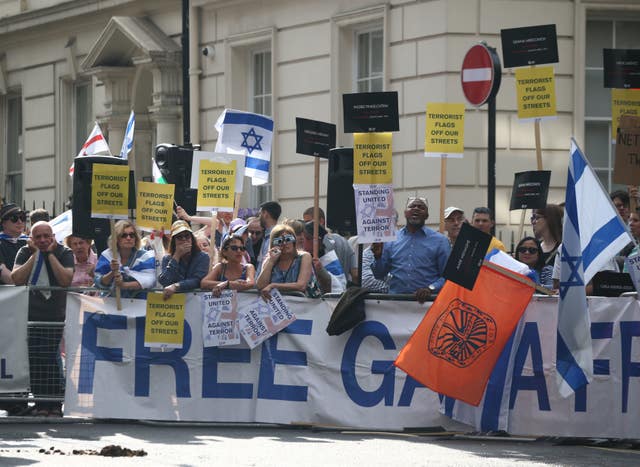 Pro-Palestine protesters included both men and women and some wore badges which read "Free Palestine Boycott Israel".
Their banners read "End The Killing, End Israeli Apartheid" and "Stop Gaza Genocide".
Scotland Yard said there had been one arrest – of a man for possession of a noxious substance – by 5.40pm.
He is currently in custody at a central London police station.
The two sets of demonstrators – separated and closely watched by teams of police – slowly marched to Downing Street.
Mounted police joined the officers separating the moving groups as they walked to Whitehall.