The Prince of Wales and the Duchess of Cornwall got a taste of rural Northern Irish village life during a visit to a community centre in Co Tyrone.
Gaelic football, rare breed sheep, biodiversity, traditional music and natural remedies for animals were among the experiences on the menu for the royal couple at Owenkillew Community Centre in the village of Gortin on Wednesday.
Charles even had a go at making an ornamental wooden wheelbarrow in the Men's Shed section of the complex, which the duchess had earlier admired as "lovely".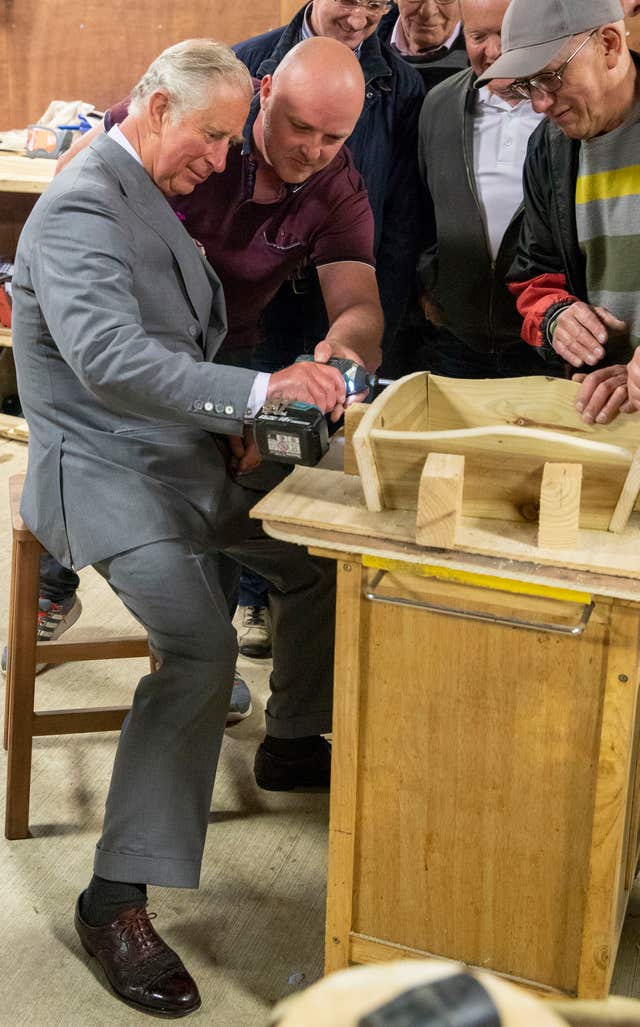 Earlier, the prince took a keen interest in a Gaelic football demonstration, inquiring whether the game was as rough as hurling.
Louise Mossey, 19, from Badoney Ladies GAC in the village explained how it worked.
"He was asking whether it was mixed or boys and girls, and about how often you use your hand," she said.
"Then he also asked whether it was as rough as hurling which he had had a go at in Kilkenny. It felt really weird to be talking to a prince."
Charles also admired some sheep that had been brought to show him, particularly Selina Beattie's Valais Blacknose sheep from Switzerland, and joked as children queued up to feed them that they had never had it so good.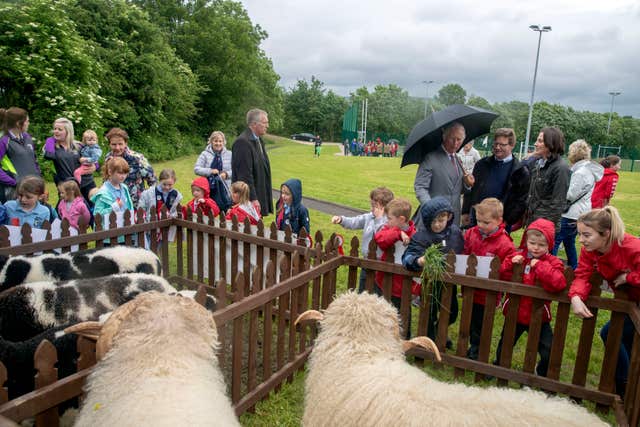 While the population of Gortin is just 400, it seemed like most had turned out for the very special visitor, with lines eager for the chance to meet the prince as he made his way inside the main hall to meet people from local groups and businesses.
June Cochrane showed the prince a spinning wheel and presented him with a Viking-era sash.
"He asked me did I like using the spinning wheel, I said I'd rather walk the dogs, just like his mother, although I don't have as many dogs as her," Mrs Cochrane said.
"The sash was made by tablet weaving which I also do, it was something worn by the Vikings."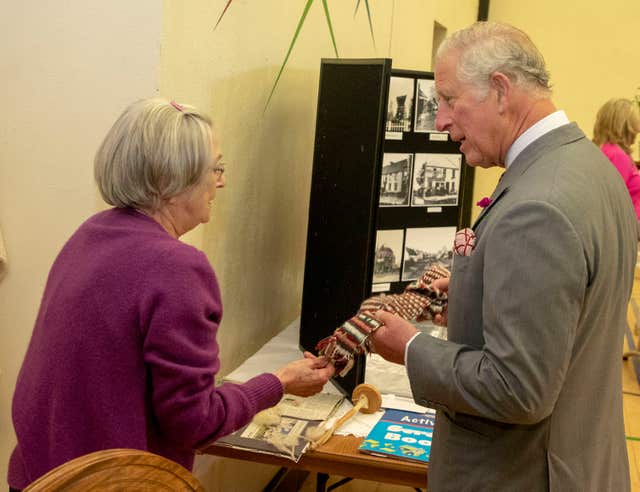 "Just beautiful," Camilla declared after sniffing one of the pots of the secret family recipe.
Brand owner Cheryl McWilliams is the fourth generation of her family to make the recipe, but the first to bring it to market.
"The recipe has been handed down the generations, it can be used on all animals and helps heal wounds in weeks that might otherwise have taken months to heal," she said.
"It's also now being tested for humans. I gave them some pots of it so we'll see what happens."
Owenkillew Community Centre opened in 1999 on a seven acre site in the heart of Gortin, including a 55 bed hostel, outdoor activity centre and community garden which was set up in 2012. In 2016 the complex expanded with a Men's Shed.
Centre manager Angela O'Brien said the visit had been a great day for the whole community.
"It was a chance to show off a thriving rural community in the west of Ireland that not many know about," she said.
"We gave them a taste of Tyrone village life, and it's been a great day celebrating all sections of this beautiful community."