A group of white supremacists have been jailed for plastering racist stickers across a city centre university campus.
After stickering prominent signage on the site, the men then posed for a souvenir-style photo doing Nazi-type salutes and holding the black flag of far-right organisation National Action.
Sentencing the men on Wednesday, a judge said the "pernicious" stickers deposited at Aston University, Birmingham, had "potential to cause social unrest and racial tension in the city".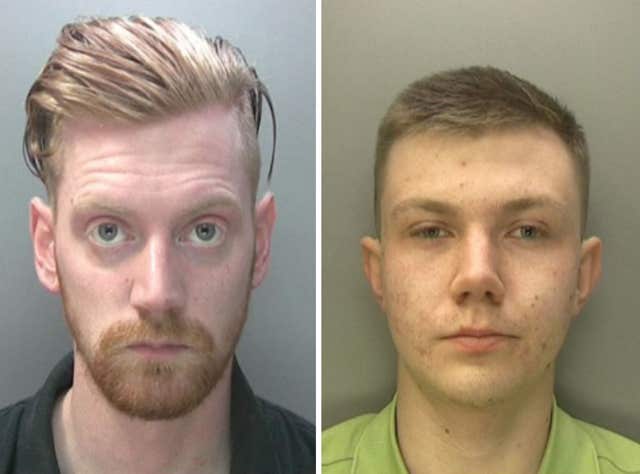 He added that the stickers were also recruitment tools for National Action, of which the men were all then members.
Images of the men's handiwork was posted to the extreme far right group's regional Twitter account soon afterwards.
Judge Farrer added: "In this way you each intended to stir up racial hatred.
"We are fortunate to live in a tolerant society.
"Your behaviour was calculated to not only undermine these values, but also to foment hatred and unrest in society.
"The gravity of the offences means it demands immediate imprisonment – with one exception."
Williams-Allen, the court heard, played a central role and had a previous conviction for uttering a racially abusive remark at a National Action rally in May 2016, which the judge said was a "significant aggravating factor".
Mr Farrer told the 27-year-old unemployed welder: "You identified with Adolf Hitler and Nazi Germany.
"You are anti-Semitic and a profound racist.
"You made contact with National Action in March 2016, but not require their influence to harbour extreme views on race and multiculturalism."
Williams-Allen, who had also stated a race war was "inevitable", was jailed for 21 months with the court hearing how he had provided most of the 11 offensive stickers used on July 9 2016.
Two other men, a 27-year-old and a 23-year-old, were jailed for 16 months and 12 months respectively for their parts in the enterprise.
After carrying out their stickering, the group bragged about how their activities stirred up offence among "butt-hurt students, sub-humans, and traitors".
One of the stickers, put on an entrance sign, showed a white figure giving a Nazi-type salute, and carried the words "White Zone – National Action".
Another read: "Britain is ours – the rest must go."
A message then later appeared on the Twitter account of the group's regional arm, the day after the stickering, stating: "The fashy goys (sic) of National Action have hit Aston University campus".