The Prince of Wales and Duchess of Cornwall have begun a two-day tour of the Republic of Ireland with a visit to Cork.
Charles and Camilla started by following in the footsteps of the Queen and travelling to the city's famous English Market.
There was a party atmosphere in Cork as the royal visitors were greeted by a local band – the product of a nationwide music education programme initially part-funded by the rock stars U2 – playing pop hits for hundreds of schoolchildren gathered outside the market and crowds lining crash barriers.
Ireland's deputy leader, Simon Coveney, welcomed the royal visit which local politicians hope will boost Cork's profile as a major regional hub.
He said: "Royal visits enforce the normalisation of a confident and independent Ireland today with its closest neighbour, and the fact that we've moved on from the hang-ups of the past.
"Prince Charles has been to the island three times in the last three years. Today he's seeing the best part of Ireland and I think he'll get a very warm reception here.
"As you can see, people of all ages are here to make sure this is a positive day for Cork."
It first began trading meat in 1788 but fish, vegetables, fruit and other goods were later added and today it serves all markets, from those wanting the latest trends in cuisine to locals buying traditional fare such as tripe or blood pudding known as drisheen.
Charles and Camilla went on a brief walkabout after they stepped from their motorcade, meeting some of the enthusiastic school pupils who screamed and shouted.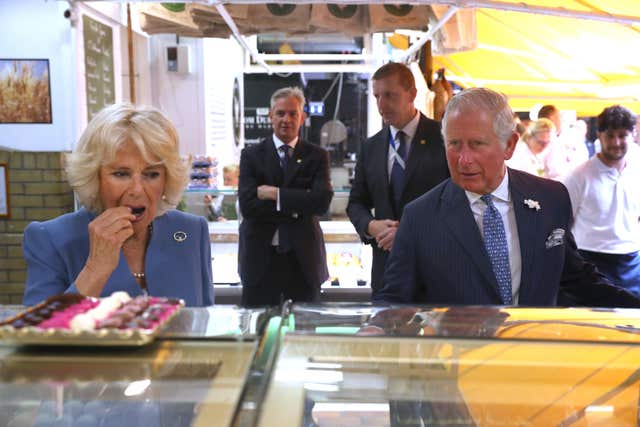 Nearby, they were immortalised in icing with their faces decorating a display of cup cakes.