Gay rights campaigner Peter Tatchell has been released after being arrested in Moscow following a one-man protest near the Kremlin.
Peter Tatchell was detained near the statue of Marshal Zhukov in a public square which was busy with football fans ahead of the first game of the World Cup, while holding a poster attacking Russian president Vladimir Putin.
The poster read: "Putin fails to act against Chechnya torture of gay people".
Several police officers moved in to detain Mr Tatchell and told him he had broken the law in Russia.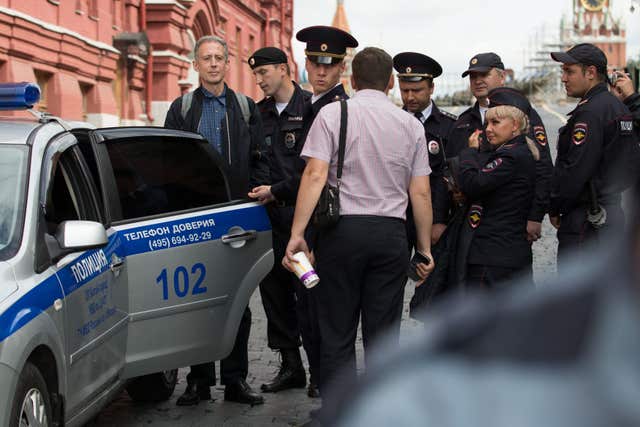 Mr Tatchell shouted "OK" as he left the first vehicle before being flanked by two officers in the car which drove him away.
He was released on bail around an hour later and the Peter Tatchell Foundation said he had been "treated well".
Foreign Secretary Boris Johnson later tweeted: "Pleased to hear @PeterTatchell is well, and my thanks to our consular staff in Moscow at @ukinrussia for providing speedy support to him."
Mr Tatchell said he is due to appear in court on 26 June for violating Federal Law 54 and Presidential Decree 202, which prohibit all protests near the Kremlin and during the World Cup.
He added: "I have written a letter to the Chief of Police of Kitay-Gorod police district, requesting that my court appearance is voided on the grounds that I am flying back to the UK on 18 June.
"I have been told I will be free to leave Russia on that date as planned. I spent one hour and 40 minutes in police custody, from the moment I was detained near the Kremlin to the moment of my release from the police station."
Earlier, Mr Tatchell defended his right to protest, saying: "I was exercising my lawful right to protest, under the Russian constitution, which guarantees freedom of expression and the right to protest in Articles 29 and 31.
"A one-person protest, which is what I did, requires no permission from the authorities and the police.
He said he had been treated more leniently than Russian protesters because of his British passport and said he was "awed" by their courage.
On his reasons for staging the protest, Mr Tatchell said before his arrest: "Little action has been taken by the Russian government and police to crack down on far right extremists who target LGBT-plus people for violent and humiliating assaults – including the instigators of the current threats to bash and stab LGBT-plus football fans at the World Cup."
He said it was his sixth visit to the country, where he said he has twice been arrested during protests and suffered brain damage after being attacked by Russian neo-Nazis in 2007.