Thousands of mourners have flooded the streets surrounding Grenfell Tower for a silent march to mark one year since the fire.
Survivors and bereaved relatives slowly led a vast throng through North Kensington as dusk settled on an emotional day of commemorations.
Almost all were wearing green sashes as a sign of solidarity to those affected, including Labour leader Jeremy Corbyn, who had joined the crowds for the event.
The silent marches began in the immediate aftermath of the fire and take place on the 14th of every month.
On Thursday, there were an estimated 5,000 people in attendance for the one-year anniversary, many of whom quietly wiped away tears and held each other as they moved.
It rounded off a day of poignant tributes to the 72 dead.
Shortly before midday, hundreds of grieving families gathered at the foot of the west London block to observe 72 seconds of silence, joined by Mayor of London Sadiq Khan and global music stars Stormzy and Adele.
The names of all the dead, including stillborn baby Logan Gomes and Maria del Pilar Burton, who died in January, were read out by different members of the community.
After each finished their turn, they said: "Forever in our hearts."
Quiet then fell over the gathered crowd, all still except for the rustle of leaves in the trees, and a chill wind washed over the area, stark in contrast to the sweltering conditions on the day of the fire.
By the time all the wreaths had been laid, however, the sun had broken overhead, bathing the streets in warm light.
A minute's commemoration was also observed across the country, including at Government buildings, the Palace of Westminster and by the Queen and the Duchess of Sussex in Chester.
Nicholas Burton, a former 19th-floor resident who was married to Mrs Burton, was the first of the bereaved to lay flowers at the tower.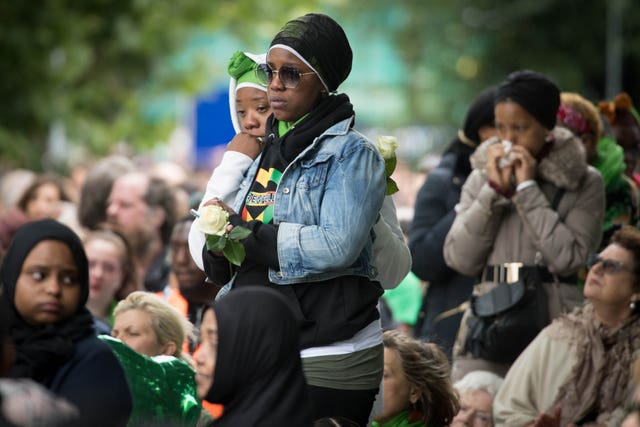 "I was just thinking about my wife during the minute's silence, to tell you the truth, hoping she's OK and I got a bit emotional.
"Then you remember everyone else who died in that tower and I know that I'm lucky to have had a bit of time with my wife."
A few hours later, mourners from a separate church service led a hushed crowd along Silchester Road to the tower.
Many held huge green hearts emblazoned with words such as "humanity", "love", "unity" and "grace".
Labour leader Mr Corbyn arrived as evening fell, accompanied by shadow Home Secretary Diane Abbott.
Wearing a green fabric sash around his neck, he greeted and hugged residents before writing a message on the tower's perimeter fence.
It said: "Love and sympathy to all at Grenfell. Together we mourn. Together we overcome."