Professor Stephen Hawking has been laid to rest between the graves of Sir Isaac Newton and Charles Darwin at Westminster Abbey, as he was celebrated for his "unique example of achievement against all the odds".
Labour leader Jeremy Corbyn, musician Nile Rodgers, TV star David Walliams and Professor Brian Cox were among the guests who gathered at a Service of Thanksgiving.
The service featured readings from Benedict Cumberbatch, who played the physicist in a BBC drama, and astronaut Tim Peake.
Lord Rees said: "Stephen described his own scientific quest as learning the mind of God, but this was a metaphor.
"He shared Darwin's agnosticism, but it is fitting that he too should be interred in this national shrine.
"His name will live in the annals of science. Nobody else since Einstein has done more to deepen our understanding of space, time and gravity.
"Millions have had their horizons widened by his books and lectures, and even more worldwide have been inspired by a unique example of achievement against all the odds."
Choral music echoed through the grand building as family members, led by the Dean of Westminster, processed to Prof Hawking's final resting place.
His daughter, Lucy, and first wife Jane Hawking, were among those who laid flowers, while a medal created by the Stephen Hawking Foundation was also placed in the grave next to the wooden casket.
A memorial stone will lie above inscribed, "Here lies what was mortal of Stephen Hawking 1942 – 2018". The words are a translation of the Latin on the nearby grave of Sir Isaac Newton.
Designed by artist John Maine, it is made from Caithness slate from the north of Scotland and was chosen to represent deep space.
The memorial is inscribed with his most famous black hole equation, hovering over a series of rings.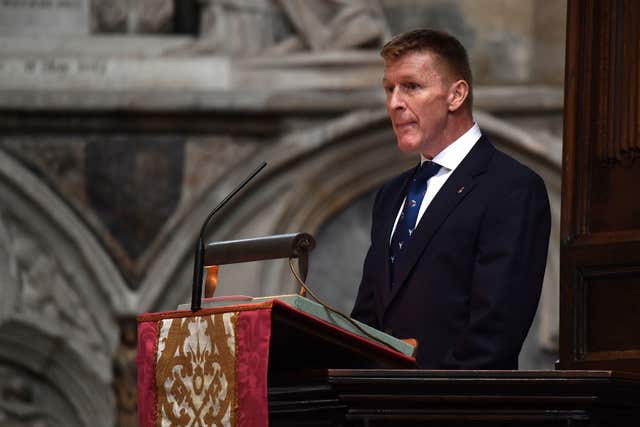 Paying tribute to his friend and former colleague, Professor Thorne said: "Stephen and I were very close friends for 43 years, he was by far the most stubborn friend I ever had.
"He absolutely refused to let his physical disability get in the way of doing great science or get in the way of having great fun."
Prof Hawking had a "fabulous sense of humour", a "legendary" love for life and a "contagious" grin, Professor Thorne said.
He added: "Stephen William Hawking inspires us by his joyous life, by his courage, his stubbornness, and his creativity.
"He inspires by his love for family and loyalty to friends. He inspires above all by his scientific discoveries and his challenging questions for scientists of today and of the future.
"He has earned a special place in the hearts of admirers worldwide and a special place here in Westminster Abbey, alongside Isaac Newton."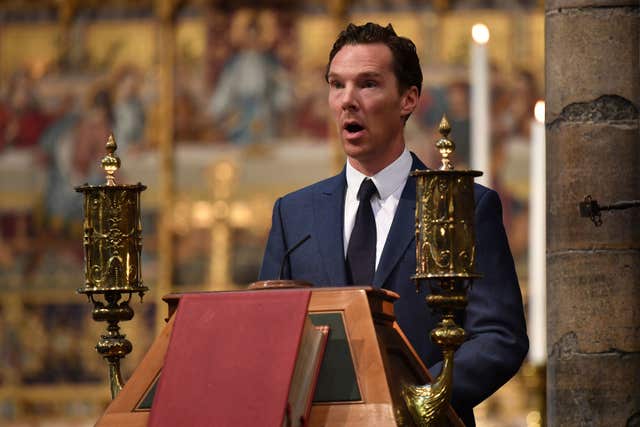 Actress Lily Cole, TV presenter Piers Morgan, actor Ben Miller, Carol Vorderman, Science Minister Sam Gyimah and Culture Minister Matt Hancock were among those present.
One thousand members of the public, from more than 100 countries, were also offered the opportunity to attend the thanksgiving service, after a ballot attracted 25,000 applications for tickets.
Prof Hawking died at his Cambridge home on March 14, aged 76.
At the age of just 22, he was diagnosed with a rare form of motor neurone disease and given just a few years to live.
His illness left him wheelchair-bound and dependent on a computerised voice system for communication.
However, he defied all odds, going on to become a towering figure in the world of physics, a bestselling author particularly with his book A Brief History Of Time, a father of three and a TV celebrity.
A private funeral service was held in Cambridge in March.