British troops have taken part in a dramatic display of force in a corridor of land considered to be one of the most vulnerable in the Baltic region.
The exercise which featured live and blank firing took place in Poland's Bemowo Piskie military training area – a location that is an hour's drive to the borders of the Russian enclave of Kaliningrad, and Belarus, an ally of Moscow.
The display drew to a close the 13-day US-led exercise called Sabre Strike, which has involved 18,000 troops and 19 countries, including the UK, and has taken place across Poland, Estonia, Lithuania and Latvia.
Deputy commanding general of the US Army Europe, Major General Timothy McGuire, when asked about the scenario of the exercise, said it was to show "we are prepared".
"Once again this was against a threat, making sure we are at our highest level of readiness and that we are always learning, always moving forward," he told reporters.
"What is significant in this exercise is that we were able to exercise the battlegroup with all the nations that comprise it – in this case the US, UK, Croatia, Romania – but in conjunction with our Polish allies."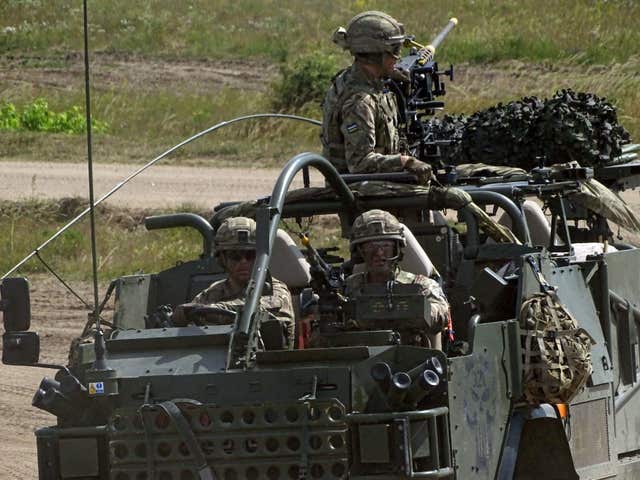 The exercise also saw the use of the South Carolina National Guards' high mobility artillery rocket system, with the multitude of firing and ordnance used across the spectrum of capabilities sending smoke billowing into the air.
Describing the show of force, Maj Gen McGuire said it was not only about the ground forces, but also about working with the air power and indirect fires.
"From my perspective (it was) impressive to see the growth in eFP readiness," he added.
The area around Bemowo Piskie is also where the US-led Enhanced Forward Presence (eFP) is centred, and is made up of more than 150 British personnel from the Norfolk-based 1st The Queen's Dragoon Guards, as well as troops from Croatia and Romania.
Established by Nato to deter potential aggression from the Kremlin, the eFP is a deployment of defensive, but combat-capable forces in countries including Poland, Estonia, Latvia and Lithuania.
The four multinational battlegroups are led by Britain in Estonia, Canada in Latvia, Germany in Lithuania and the United States in Poland – with more than 1,000 personnel in each one.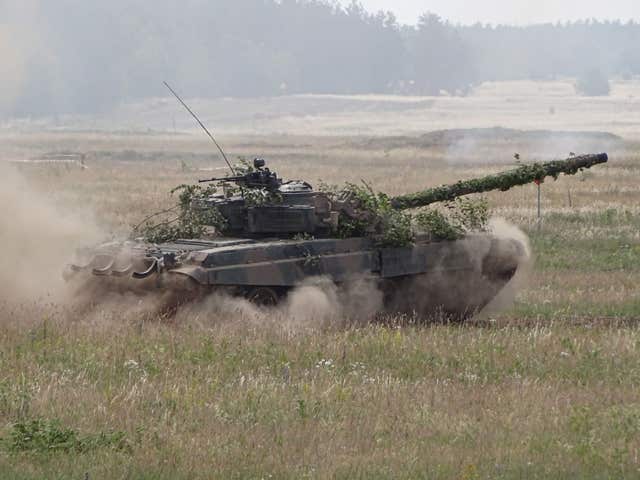 "It was really good to be back in wood blocks in confined spaces, where comms is difficult and space is not on your side," the 26-year-old from Wimbledon, south west London, said.
"It has worked really well, and it is the first time we have worked specifically alongside the Polish brigades out here, which has been good fun.
"But also, because of the scale of the exercise, a lot more resources became available and it worked really well."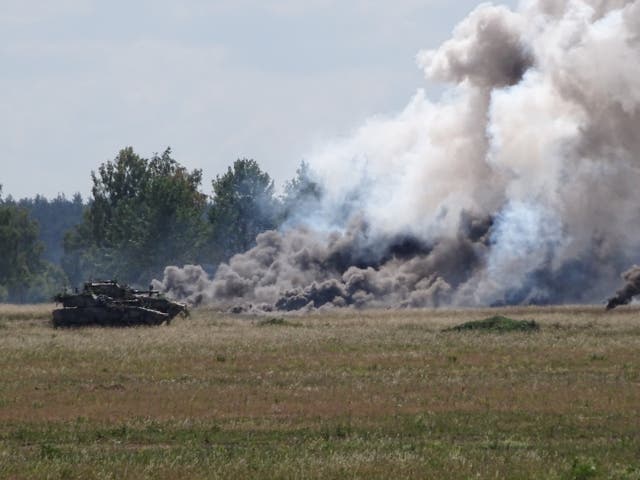 "We haven't actually been back in camp since it has been going, we've just come off Sabre Strike," he said
"But, I have no doubt whatsoever – I have seen the competition on a five-a-side football pitch (between the countries in the battlegroup) – so on a World Cup stage there's going to be some pretty intense rivalry."