Campaigners have expressed their disappointment after administrators confirmed Hastings Pier has been sold to tycoon Abid Gulzar.
The rebuilt Hastings Pier reopened just two years ago thanks to millions of pounds of public funding after it was ravaged by fire.
Last year, it won a national award when it was crowned the UK's best new building – but Hastings Pier Charity, which ran the seaside walkway, went into administration leading to the sale.
The Heritage Lottery Fund granted £12.4 million to rebuild it but it has been claimed that Mr Gulzar, the owner of Eastbourne Pier, may have purchased it for less than £100,000.
Adam Stephens, of administrators Smith and Williamson, confirmed the transfer of ownership and said: "The bid we received from Mr Gulzar, and on the recommendation of my agent, was able to best demonstrate the capacity to take the pier forward.
"Overall, Mr Gulzar demonstrated the best immediate financial capability as well as the operational capacity and experience, including from running Eastbourne Pier.
"It is anticipated that significant cash for working capital and investment purposes, amounting to over a million pounds, would be required to make the pier sustainable.
"We have been working hard with all stakeholders to create other protections for the Pier's future and heritage assets.
"Therefore, the sale is subject to a reversion clause, which means that in the event that the pier is resold in the next two years, there are certain provisions which are in favour of Hastings Borough Council acquiring it.
"We also want to highlight that the key heritage assets of the pier will be preserved and put on permanent display in the Hastings Museum, allowing future generations the opportunity to understand and appreciate the significant cultural impact of the pier."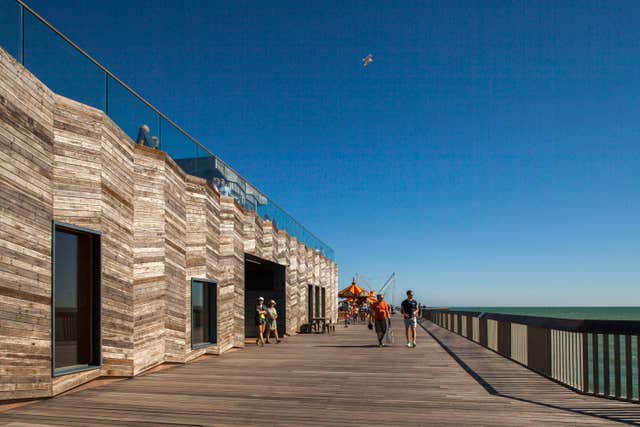 Kevin Boorman, spokesman for Hastings Borough Council, said: "The pier holds special memories for many people, local residents and visitors alike, so we are delighted that we are able to preserve these important heritage assets for future generations at our museum."
Eilish McGuinness, director of operations at the Heritage Lottery fund, said: "We were saddened that Hastings Pier Charity had to make the decision to enter administration and we funded the process to allow the pier to remain open while future options were considered.
"Today's decision by the administrators will ensure this Stirling Prize winning pier has a sustainable future and continues to make a significant contribution to Hasting's prosperity and culture."
Indian-born Mr Gulzar, who reportedly drives a gold Mercedes, has owned Eastbourne Pier since 2015 and owns hotels in the town.
He is nicknamed "Goldfinger" because of his love of gold, causing controversy when he painted Eastbourne Pier's traditional domes in gold, banned dogwalkers, fishing and picnics.
He reportedly threatened to introduce a £2 entrance fee, although he has since insisted he wants to keep access free.
Originally opened in 1872, Hastings Pier was damaged by fire twice, most recently in 2010.
It has played host to concerts for the likes of The Rolling Stones and Tom Jones and was a landing site for Second World War refugees.
It reopened to the public in 2016 and won the Royal Institute of British Architects' Stirling Prize for the UK's best new building last year.