Theresa May has moved to soothe anger at the actions of one of her party's longest-serving MPs after he blocked a bid to criminalise upskirting.
The Prime Minister, who last month signalled her support for the campaign to ban people from taking pictures up someone's clothing without their consent, pledged the Government would back moves to get the anti-upskirting legislation through Parliament.
The PM expressed her "disappointment" that the private member's Bill, which would have made upskirting a criminal offence in its own right, was delayed in the Commons.
Mrs May said: "Upskirting is an invasion of privacy which leaves victims feeling degraded and distressed.
"I am disappointed the Bill didn't make progress in the Commons today, and I want to see these measures pass through Parliament – with Government support – soon."
The Government earlier said it had "every expectation" upskirting will become illegal, despite Sir Christopher's actions in opposing a law that would prohibit the craze.
Former minister Sir Christopher was heckled with cries of "shame!" as he deployed his oft-used tactic of opposing backbench private members' bills by simply shouting an objection moments after the Bill was called.
But Justice Minister, Lucy Frazer said she was confident Sir Christopher's actions would not scupper the Bill in the long term, although the Ministry of Justice stopped short of setting a time frame on when it would become law.
She said: "We are committed to making sure upskirting becomes a criminal offence and have every expectation that this will happen."
The Voyeurism (Offences) Bill had its second reading on Friday, which, after the Government announced its support following months of legal wrangling with campaigners, would have seen the worst offenders jailed for two years for taking an image under someone's clothing.
Victims said a specific law prohibiting the craze was necessary as current legislation was often insufficient to prosecute an offender.
Gina Martin, an upskirting victim whose petition to criminalise the act won her a legion of celebrity supporters and political backing, said the decision left her extremely upset but that she remained positive.
David Gauke, the Justice Secretary who collaborated with Ms Martin over her campaign, echoed the dismay within the Conservatives.
He said: "The Government supported today's Bill on 'up-skirting'. Disappointed that no progress today – the law needs to be reformed. But it will be."
Wera Hobhouse, the Lib Dem MP who introduced the Bill after lobbying Sir Christopher on the back benches in the moments before he delivered the crushing blow, said she was angry, frustrated and disappointed.
London mayor Sadiq Khan said he was dismayed and appalled at the action, while Tory MP Bob Neill said he has written to the Prime Minister asking that government time be made available to the allow the Voyeurism (Offences) Bill to have its second reading.
Moments after blocking the upskirting Bill, Sir Christopher also opposed Finn's Law, Government-backed plans to give police dogs and horses extra legal protections from attack, and also talked out attempts to reform mental health units.
The session caused such outrage it was trending on Twitter in the UK.
Sir Christopher failed to respond to repeated attempts by the Press Association to comment.
The Bill, which would have progressed to the amendment stage before returning to the Commons and the Lords and, later, receiving Royal Ascent, will have to return for another Friday Private Members Bill session, on July 6, if it is to have any hope of becoming law this Parliamentary term.
Even then, it would only take one dissenting voice to again put a stop to its progress.
Ms Martin, a 26-year-old freelance writer living in London, said she spoke to Sir Christopher after the session to ask him about his decision.
She said: "We knew this was a risk but I now stand with powerful, passionate women and men behind me, and I am confident that (junior minister) Lucy Frazer is committed to, and will, close this gap in the law.
"Ryan (Whelan, her lawyer) and I have just spoken with Sir Christopher and he has agreed to meet with the two of us to discuss the Bill.
"I'm positive and hopeful that he will become a supporter."
Richard Burgon MP, who backed the Bill, wrote on Twitter: "Disgusted to see that Tory MP Christopher Chope blocked the Upskirting Bill in Parliament today.
"Labour have supported this campaign from the start, it's time for the Government to bring legislation and not rely on Private Members' Bills, which their own MPs have undermined."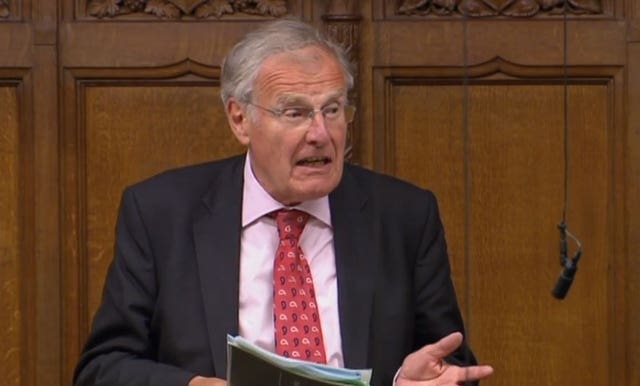 The first figures on the prevalence of upskirting, published by the Press Association earlier this year, showed complainants as young as 10, with incidents in a slew of public locations such as restaurants and festivals.
Currently victims in England and Wales are forced to seek prosecution through other legal avenues, such as outraging public decency or harassment, prompting the call for a specific law similar to one already in force in Scotland.
The new law would bring the punishment for upskirting in line with other existing voyeurism offences, and will see offenders face a maximum of two years in prison.