The mother of a 12-year-old son with acute epilepsy who had cannabis oil used to treat his condition confiscated from her at Heathrow has demanded a meeting with the Home Secretary and the Health Secretary "within 24 hours".
Charlotte Caldwell had been using the banned medication – which contains the psychoactive substance tetrahydrocannabinol (THC) – to help manage her son Billy's epilepsy since 2016.
But she had his latest supply taken off her when she returned to the UK from Canada on June 11.
After Billy was rushed to Chelsea and Westminster Hospital on Friday night in a critical condition having suffered multiple seizures, Home Secretary Sajid Javid granted a 20-day emergency licence granting use of the oil.
Billy was discharged from hospital early on Monday afternoon, but now Ms Caldwell, 50, wants an urgent review of the law.
Speaking outside the hospital, Ms Caldwell said the Government was panicked into action by her son's admittance to hospital, and that previously they had suggested she make the application to have his medication released herself, giving no indication how long it could take.
She said: "The fact that Billy has been discharged is testimony to the effectiveness of the treatment and underlines how vital it is that every child and every single family affected in our country should have immediate access to the very same medication.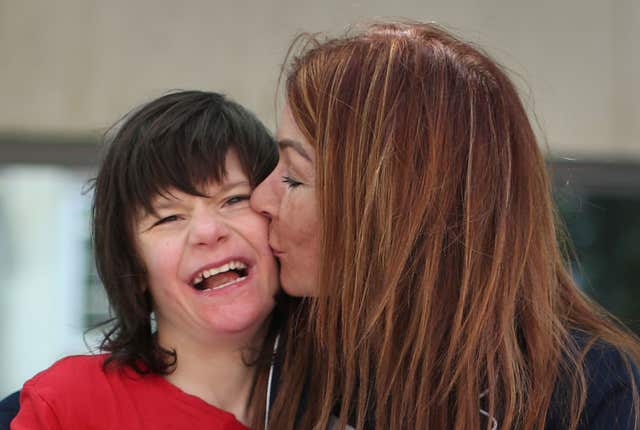 She continued: "I will ask them to urgently implement a programme that provides immediate access to the meds Billy so urgently needs and now more so than ever the many other children affected by this historic development.
"I will also ask them to implement a review of how the Government, our government, our UK government, can make cannabis based medication available to all patients who urgently require it in our country.
"I will demand that the health department, not the Home Office, takes responsibility for providing access to medication for these incredibly sick children – this meeting must take place within 24 hours.
"Children in or country are dying and suffering beyond imagination."
Ms Caldwell, of Castlederg in County Tyrone, Northern Ireland, was adamant that change could be implemented really quickly, adding that the team treating Billy at Chelsea and Westminster was stunned by his speedy recovery.
Many other countries, including much of the US, Germany, Italy and the Netherlands, have legalised the substance's use medicinally.
Ms Caldwell credits the oil with keeping the boy's seizures at bay, saying he was seizure-free for more than 300 days while using it, but THC is restricted in the UK.
She said she was "slightly confused" at the Home Office's intervention, saying: "This is a medical issue, it is not a Home Office issue."
Earlier on Monday, Health Secretary Jeremy Hunt pledged his support for a review of the law, saying that it could take place within months.
He told BBC Radio 4's Today Programme: "I don't think anyone who followed that story could sensibly say that we are getting the law on this kind of thing right."
But Theresa May later apparently put the breaks on the plans, saying laws around cannabis usage should be driven by doctors' opinion in their usefulness and the potential dangers.
Speaking after a speech about the NHS, she said: "Do we need to look at these cases and consider what we've got in place? Yes.
"But what needs to drive us in all these cases has to be what clinicians are saying about these issues.
"There's a very good reason why we've got a set of rules around cannabis and other drugs, because of the impact that they have on people's lives, and we must never forget that."
When asked about the Prime Minister's apparent reluctance for a review into the use of cannabis oil, Ms Caldwell replied: "I am aware that this incredibly important issue is being discussed at cabinet level and I'm encouraged that the Home Secretary is pushing for an urgent resolution."
She repeated that she looked forward to meeting with both the Health Secretary and the Home Secretary within 24 hours.