The Duke and Duchess of Sussex received a rapturous welcome from Royal Ascot when they joined the Queen for the opening day's carriage procession.
Just four weeks after marrying, Harry and Meghan enjoyed the sights and sounds of a quintessential English summer event – a day at the races.
Thousands of racegoers cheered and applauded from the stands as the Queen's carriage led the procession down the course.
The Princess Royal and Duke of York joined their mother in the lead carriage and were followed by another carrying the Prince of Wales, Duchess of Cornwall and Princesses Beatrice and Eugenie.
Harry and Meghan were next, with the Earl and Countess of Wessex, and waved as they travelled past the packed stands on their way to the royal box.
The Queen, whose choice of yellow hat cost the bookmakers dear, was wearing an Angela Kelly ensemble of matching hat, dress and coat.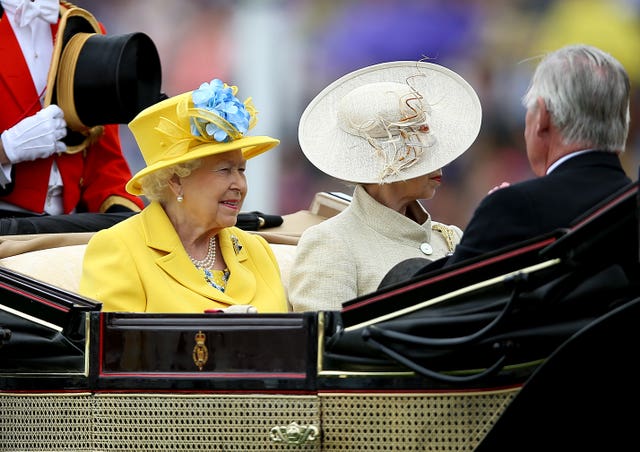 He added: "Well, we live to fight another day and hopefully we can win back our loses tomorrow, our early favourite is pink at 9-4."
Royal Ascot is as much a social and fashion occasion as a major sporting event and the female racegoers had gone out of their way to impress on the first day of the event.
Meghan wore a chic outfit from Givenchy, the fashion house that designed her wedding gown, with a stylish Philip Treacy hat.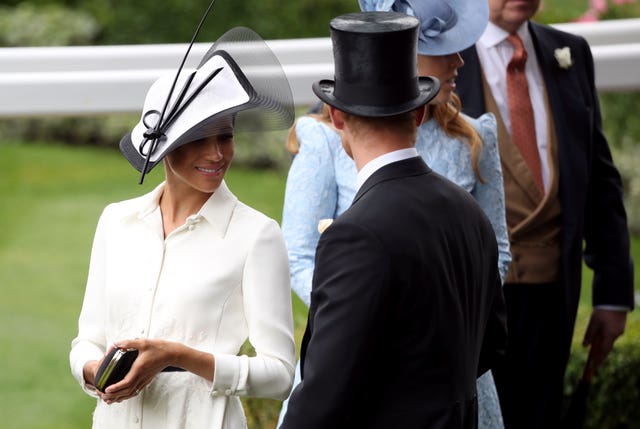 Designer Isabell Kristensen who has been attending the famous race meet for more than 20 years, was earlier photographed wearing a large delicate rose for a hat which was designed by her son Martin.
She said: "The hat has to come first, the outfit second. My son designed it in our fashion house it's large but it's very light and easy to wear."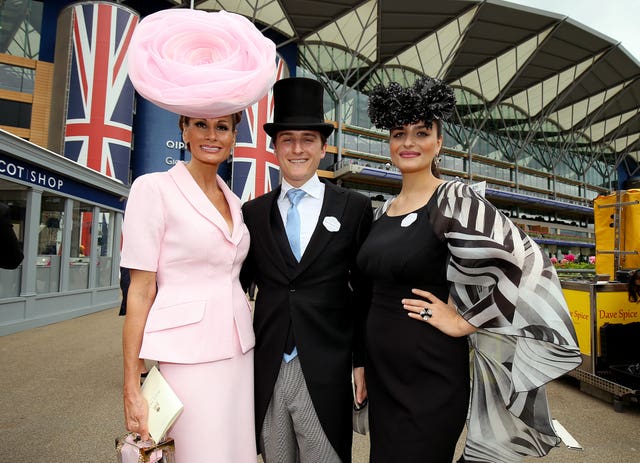 Ms Ligere said: "I love the thrill of the racing, the horses are so beautiful and its the best race meeting in the world.
"It's wonderful to see so many people have made an effort with their hats."
As a horse owner and breeder the Queen has a lifetime of experience and has seen her thoroughbreds win more than 20 Royal Ascot races.
When Meghan and Harry stepped from their carriage Edward handed his nephew a copy of the official race programme with details of all the runners and riders.
The duchess took his arm and they walked over the plush grass of the parade ring to other members of the royal family and then the duke began flicking through the  booklet and pointed something out to his wife.