One of three graffiti artists who died after being hit by a train had an "exceptional" talent for art from an early age, his family said.
Jack Gilbert, 23, from Bush Hill Park, Enfield, "died doing something he loved", a statement said.
Harrison Scott-Hood, 23, and Alberto Fresneda Carrasco, 19, also died in the incident.
Spray cans were found close to the bodies on an elevated section of track between Brixton and Denmark Hill, south London.
Police believe the men were hit by an out-of-service passenger train near Loughborough Junction station at around 1am on Monday.
Mr Gilbert's family said: "There are no words to describe the devastation we feel. He was a wonderful son, brother, uncle and boyfriend. His generosity was endless and he would help anyone who needed it.
"He lit up everyone's world just by being in it and never failed to put a smile on people's faces.
"The hole he has left in our hearts will never be filled.
"His talent for art even from an early age was exceptional. Everyone loved Jack and the only solace we have is he died doing something he loved."
Mr Carrasco, a Spanish-American who lived in Hampstead, north London, was keen on fashion and due to study graphic design at the London College of Communication in September.
"With great pain we have received the news of the death of our son… His absence has left a deep hole in the family," a statement said.
Messages were left to the trio under their graffiti "tags" of Kbag, Lover and Trip on social media.
"RIP so young man too soon", wrote one, while many messages read "Rest In Paint", alongside images of the men's painted tags on trains and walls.
Another read: "Stay safe people, it's not a game."
Flowers and three spray cans lay next to shutters at the station, which had been spray-painted with "RIP" and three love hearts, on Tuesday morning.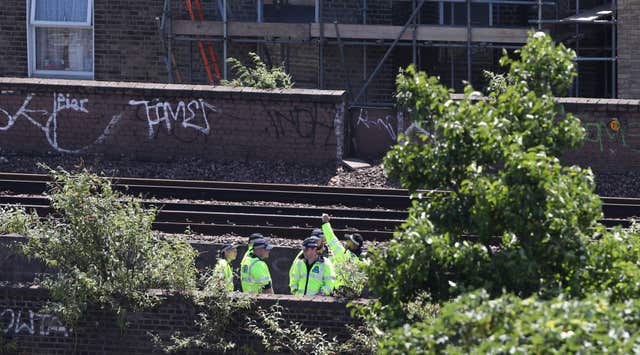 The train believed to have hit the men has been found and forensically examined, according to the force.
Detective Superintendent Gary Richardson said: "We have a dedicated team working to establish how these young men came to be on the tracks in the early hours of yesterday morning.
"The initial evidence we have been able to gather indicates that the men may have been on the track for the purposes of spraying graffiti."
There was speculation that the three may have heard the train coming and lay down, but on the wrong line.
Rail regulator the Office of Rail and Road has opened a preliminary investigation.