Labour's leadership opposes plans for a third runway at Heathrow but will give its MPs a free vote on the proposals, the party has announced.
Support for expansion was conditional on four tests being met but the Government blueprint falls short, shadow transport secretary Andy McDonald said.
Labour has called on all parties to offer a free vote when the divisive plans go before MPs.
Boris Johnson is one of a number of senior Tories who have campaigned against expansion for many years and it is widely expected the Foreign Secretary will conveniently be away on business when the vote takes place.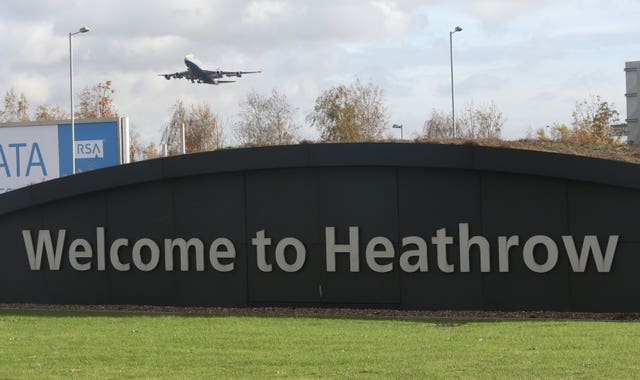 A free vote across the House could unleash opposition from within Tory and Scottish nationalist ranks.
The Cabinet approved the expansion plans earlier this month after years of wranglings and delays.
Labour had set four tests for support, increased capacity, C02 reduction, minimised noise and shared benefits across the UK, and said none had been met.
The party said the plans do not guarantee that a third runway is deliverable, are not consistent climate change obligations and ministers have failed to set out clear targets for noise mitigation.
It also warned that claims up to 15% of all new routes be reserved for the domestic market could mean as little as 1% in practice.
Mr McDonald said: "Labour has always argued that airport expansion must meet our four tests.
"After careful and rigorous consideration, we are clear that they have not been met.
"Heathrow expansion is incompatible with our environmental and climate change obligations and cannot be achieved without unacceptable impacts on local residents.
"The improved connectivity to the regions of the UK cannot be guaranteed and there are unanswered questions on the costs to the public purse and the deliverability of the project.
"We support vital investment in our country's transport infrastructure, but every investment must be tested on whether it provides real value for money and sustainability.
"A third runway at Heathrow fails this test."
John Stewart, chairman of anti-expansion group Hacan, welcomed Labour's stance, and said it created "more uncertainty about how the vote will go".
He added: "The fact that the main opposition party is not backing a third runway means greater risks for Heathrow's financial backers who are ploughing billions into a scheme that might be pulled by a future government."
A Heathrow spokesman said: "We are disappointed that Labour have disregarded much of the evidence on how their four tests will be met by Heathrow expansion.
"The independent Airports Commission – after its 2.5 year, £20 million study – found Heathrow's plans for a north-west runway deliver on all fronts including carbon, noise, air quality and nationwide benefits.
"Despite the decision, we retain the support of trade unions and many backbench Labour MPs and will continue to engage constructively with the Labour Transport Team as we deliver a lasting legacy for future generations, fulfilling our commitments to the economy and the environment."