Lord Sugar has said he is "very sorry" for his tweet about the Senegal football team, in which he compared the World Cup squad to beach vendors in Marbella.
The Apprentice boss had initially tweeted a picture of the sports team, which had been edited to include a picture of handbags and sunglasses laid out on sheets.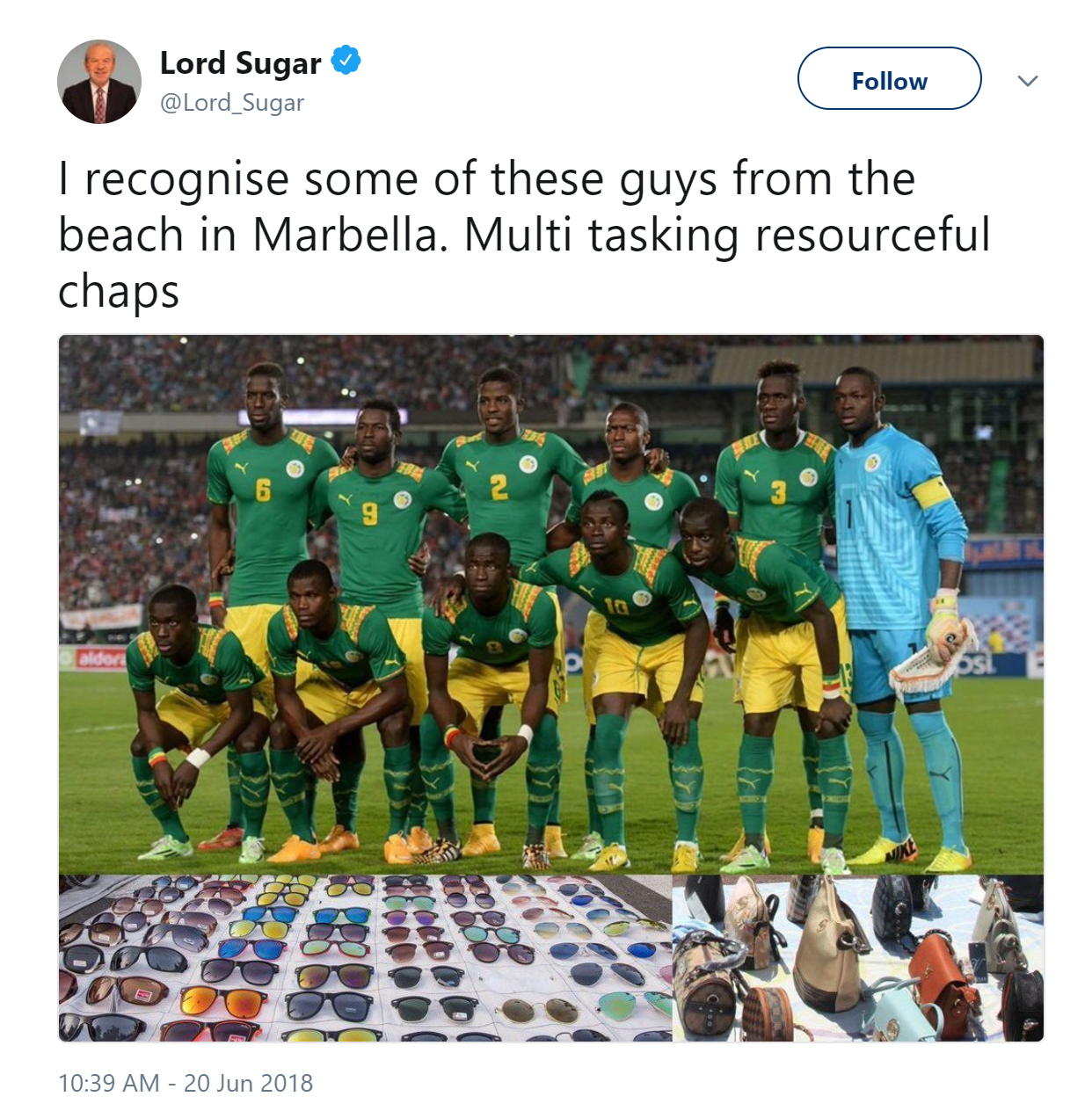 After being criticised for the post, he defended it, writing that he thought it was "funny" and that people had misinterpreted it.
The business mogul had tweeted: "Just been reading the reaction to my funny tweet about the guy on the beach in Marbella. Seems it has been interpreted in the wrong way as offensive by a few people. Frankly I cant see that I think it's funny. But I will pull it down if you insist."
Lord Sugar had also tweeted responses to people who had criticised it, writing to one: "I cant see what I have to apologise for… you are OTT… its a bloody joke."
However, a short while later, he deleted all of his messages in which he defended the post and apologised.
He tweeted: "I misjudged me earlier tweet. It was in no way intended to cause offence, and clearly my attempt at humour has backfired.
"I have deleted the tweet and am very sorry."
The BBC, which airs Lord Sugar's reality series The Apprentice, issued a response following the apology.
In a tweet via the BBC's Press Office, it wrote: "Lord Sugar has acknowledged this was a seriously misjudged tweet, and he's in no doubt about our view on this. It's right he's apologised unreservedly."
His post came as the BBC published a landmark report on career progression for its employees of black, Asian and minority ethnic backgrounds, in a drive for "substantial culture change".
Asked about Lord Sugar's tweet, a senior Labour source said: "It's quite clearly racially offensive and unacceptable and should be investigated
by the relevant parliamentary authorities."
Lord Sugar was made a Labour peer by Gordon Brown in 2009, but quit the party six years later and now sits as a crossbencher.