A new immigration scheme for EU nationals living in the UK is set to receive its first applications within weeks.
The Home Office hopes to begin testing an online platform with a small number of real cases from the end of the summer, ahead of a phased roll-out later this year.
On Thursday ministers released details on the settlement scheme for EU migrants seeking to stay in the UK after the post-Brexit implementation period ends on December 31, 2020.
Applicants will have to pay £65, which is the same as the current fee for a permanent residence document and £10.50 cheaper than the minimum for a standard British passport.
The fee will be £32.50 for children under the age of 16, and free of charge for those who already have permanent residence documents.
In a private "beta" phase, a small number of applications will be run through the system to test that it works effectively.
There will then be a phased roll-out from late 2018, with the Home Office saying the scheme will be open "fully" by March 30 – the day after Britain officially departs the bloc. The final deadline for applications is the end of June 2021.
EU citizens and family members who have been in the UK for five years by the end of 2020 will be able to apply for "settled status", meaning they are free to go on living and working in the UK indefinitely.
Those who have arrived by December 31, 2020, but do not have five years' residence, can seek to stay until they have, at which point they can seek settled status.
While the Government's aim is for the applications to be turned round in a fortnight, officials are hopeful answers could be given well within that timeframe.
Publishing a "statement of intent" on the arrangements, Home Secretary Sajid Javid said: "Throughout, we will be looking to grant, not for reasons to refuse.
"I do not underestimate the scale of the challenge, but the Home Office already issues around seven million passports and three million visas each year, and so processing applications on the scale required is not new to us."
Applicants will submit their request for settled or pre-settled status using an online platform.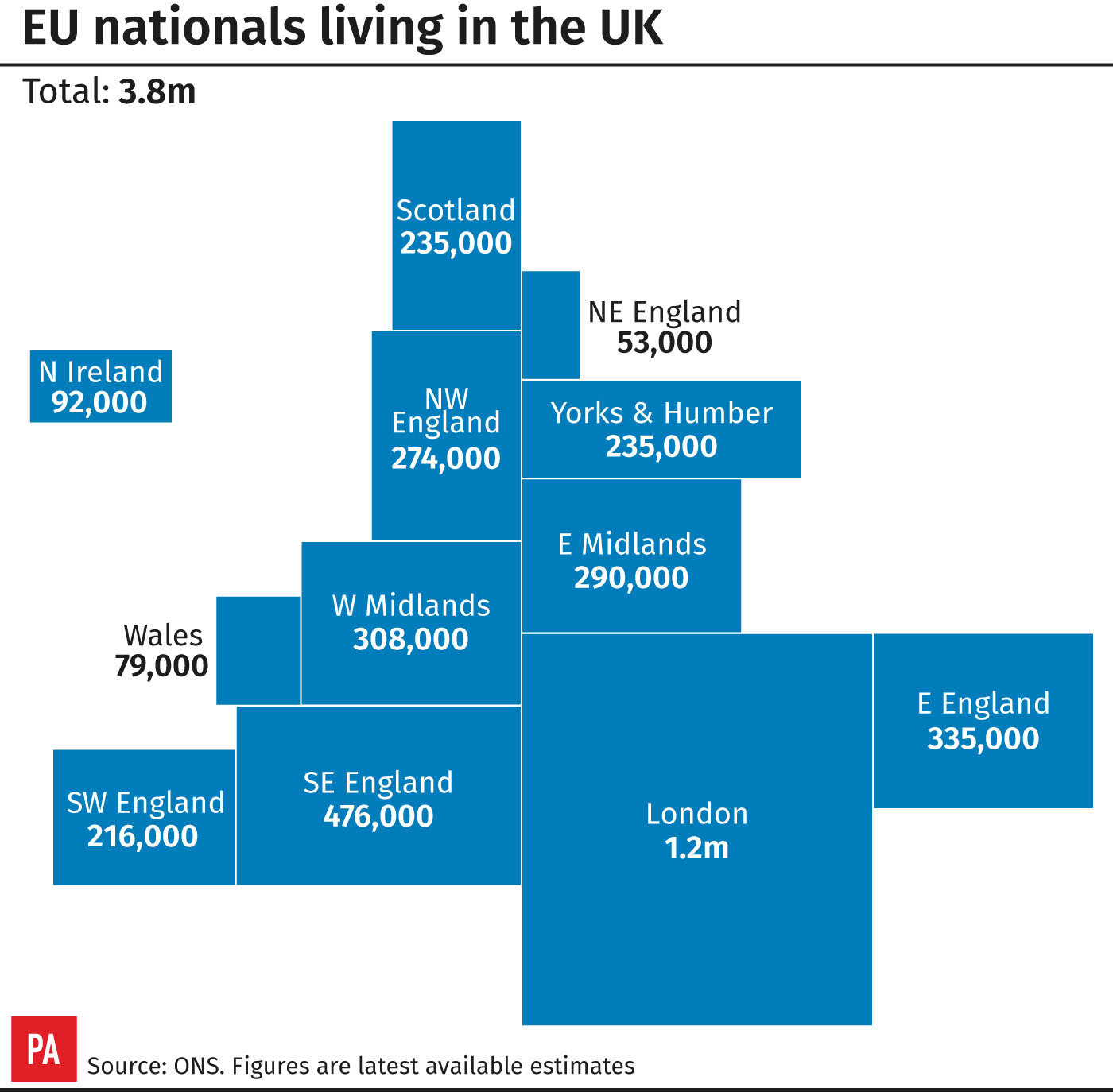 The Home Office will check employment and benefits data to confirm proof of residence, while all applications will be run through UK criminality and security databases.
In cases flagged up for concern, overseas criminal records can be checked – but this will not be automatic.
The same test will be applied as is currently used to determine whether an individual can be deported because of criminal conduct – whether they present a genuine, present and sufficiently serious threat to the fundamental interests of UK society.
The Home Office document said this is a "sensible approach", adding: "We are not concerned here with minor offences, such as a parking fine".
The paper also confirmed:
– Close family members living overseas will still be able to join an EU citizen after the implementation period;
– Non-EU nationals who meet certain criteria will be able to apply for settled status as a family member after the relationship has ended, such as because of death or divorce;
– Applicants who are refused will be able to re-apply at any point, and however many times they wish, up to the end of June 2021;
– Holders of settled status could be absent from the UK for up to five years before it lapses.
There were an estimated 3.8 milion EU nationals living in the UK last year.
Immigration Minister Caroline Nokes said: "EU citizens make a huge contribution to our economy and to our society.
"They are our friends, family and colleagues and we want them to stay."
Labour MP Yvette Cooper, who chairs the Commons Home Affairs committee, said: "The Government has rightly provided more clarity on how the EU settlement scheme will operate, and we need more information from other countries on what the arrangements for UK citizens resident there will be."
She added that "far more answers" are still needed about what happens to those who have not registered by the deadline through no fault of their own.
Alp Mehmet, vice chairman of Migration Watch UK, said: "The government seem to have conceded almost every point demanded by the EU.
"Meanwhile there is very little evidence that EU member states have done anything to speak of for British residents in their countries."
Jill Rutter, director of strategy at think tank British Future, warned the Government faces a "massive task".
She added: "After Windrush showed what happens when you get it wrong, it's important that the Home Secretary sends a very clear message that the central purpose of this policy is for everybody eligible to qualify, so they can get on with their lives in the UK."