A warning from aerospace firm Airbus that it could pull out of the UK with the loss of thousands of jobs in the event of a "no-deal" Brexit should serve as a "wake-up" call, politicians have said.
The company, which employs 14,000 people at 25 sites across the country, said it would "reconsider its investments in the UK, and its long-term footprint in the country" if Britain crashed out of the single market and customs union without a transition agreement.
Publishing a Brexit "risk assessment" on its website, the firm also called on the Government to extend the planned transition period due to run until December 2020 if a deal is agreed, saying it was too short for the business to reorganise its supply chain.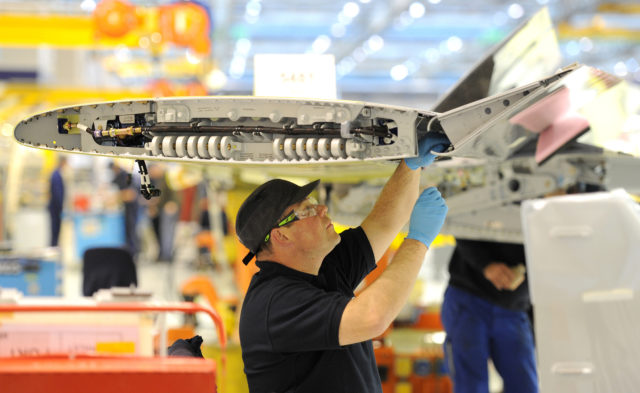 The news was greeted by anger from Labour MPs.
Darren Jones, whose Bristol North West constituency contains Airbus's Filton wing plant, attacked the Government for only listening to "hardline pro-Brexit MPs and not to the businesses that employ thousands of British workers, including Airbus".
The People's Vote supporter added: "Thousands of skilled, well-paid jobs are now on the line because of the shambolic mess the Government have created over the Brexit negotiations."
Shadow Brexit Secretary Sir Keir Starmer hit out on Twitter, saying: "If proof was needed that the PM's Brexit red lines need to be abandoned (and fast), this is it."
And former shadow chancellor Chris Leslie wrote: "And we're all supposed to go along with this Government's disastrous #Brexit strategy?! Constituents in manufacturing & service sectors who jobs are at risk will be unforgiving of any more MP fence-sitting 'constructive ambiguity'."
Ben Bradshaw described it as "devastating news", adding: "When are we going to wake up to the disaster of this Tory #BrexitShambles??", while Chuka Umunna questioned: "What will it take for the establishments running Westminster to wake up!"
Meanwhile, Conservative MP Stephen Crabb described the news as a "wake-up call".
The former Secretary of State for Wales, who represents Preseli Pembrokeshire, said: "The enormous Airbus factory in North Wales is one of the jewels in the crown of UK manufacturing. This is a wake-up call. A pragmatic, sensible Brexit that protects trade & jobs is vital."
Tom Williams, the chief operating officer of Airbus Commercial Aircraft, said Brexit would have "severe negative consequences for the UK aerospace industry and Airbus in particular" in any scenario.
He added: "Therefore, immediate mitigation measures would need to be accelerated.
"While Airbus understands that the political process must go on, as a responsible business we require immediate details on the pragmatic steps that should be taken to operate competitively.
"Without these, Airbus believes that the impacts on our UK operations could be significant.
"We have sought to highlight our concerns over the past 12 months, without success.
"Far from Project Fear, this is a dawning reality for Airbus.
"Put simply, a no-deal scenario directly threatens Airbus' future in the UK."
A Government spokeswoman said: "We have made significant progress towards agreeing a deep and special partnership with the EU to ensure trade remains as free and frictionless as possible, including in the aerospace sector, and we're confident of getting a good deal that is mutually beneficial.
"Given the good progress that we are continuing to make in the negotiations we do not expect a no-deal scenario to arise.
"The Government is working closely with companies to understand their concerns ahead of leaving the EU and alongside industry will invest almost £4 billion by 2026 to ensure the UK remains a world leader in civil aerospace."
Unite's assistant general secretary Steve Turner said: "The realities of a 'cliff edge' Brexit and its impact on jobs in manufacturing communities across the four nations of the UK are becoming closer by day.
"Airbus supports 110,000 jobs in the UK. Its stark warnings of the uncertainty facing the aerospace industry cannot be dismissed by ministers and 'hard Brexiteers'.
"It would be a betrayal of Airbus workers, their families and the tens of thousands of workers in the wider supply chain if the Government failed to secure frictionless trade and access to the customs union and single market.
"Theresa May and her Government need to provide Brexit certainty if the UK is to remain at the cutting edge of innovation and a world leader in aerospace.
"People voted to leave the European Union, but didn't back leave to lose their jobs and see their livelihoods smashed on the cliff face of a 'hard Brexit'.
"Theresa May needs to ask herself whether she is willing to lay waste to vibrant manufacturing communities on the altar of Conservative party interests and Tory infighting.
"If the answer is no, then the Government needs to provide certainty over the UK's relationship with the European Union to unlock investment by securing frictionless trade and a regulatory framework agreement for the aerospace industry as a matter of urgency.
"Workers will be increasingly worried about their jobs and their future."
The First Minister of Wales, Carwyn Jones, described the news from Airbus as a culmination of what businesses have been saying in private for some time – that they are losing faith in the notion of a sensible outcome.
He said the situation was now critical and companies were making plans based on the worst case scenario.
Mr Jones said businesses had a right to expect more certainty two years on from the referendum.