This week's passage of the EU Withdrawal Bill has set the conditions for a future Conservative government to deliver a "clean Brexit", even if Theresa May does not achieve that in negotiations with Brussels over the coming months, Jacob Rees-Mogg has said.
The arch-eurosceptic said the danger of a Brexit in Name Only – in which the UK leaves the EU but remains subject to the rules of the single market or customs union – has been "significantly reduced" by the successful delivery of the bill.
Parliament's approval of the bill, after more than 270 hours of debate, came just days ahead of the second anniversary of the 2016 EU referendum on Saturday.
Speaking to the Press Association on the eve of the anniversary, Mr Rees-Mogg said he did not look on June 23 as the UK's independence day, "because I don't think we're that sort of country".
But he believes it will be remembered as a moment of change in British history as big as the Great Reform Act of 1832, victory at Waterloo in 1815 or the Glorious Revolution of 1688.
And he said only the repeal of the Withdrawal Bill – "an extraordinarily difficult thing to do" – could now prevent the UK leaving on March 29, 2019.
He dismissed as "absurd" suggestions a further referendum should be held to secure the electorate's support for an eventual deal.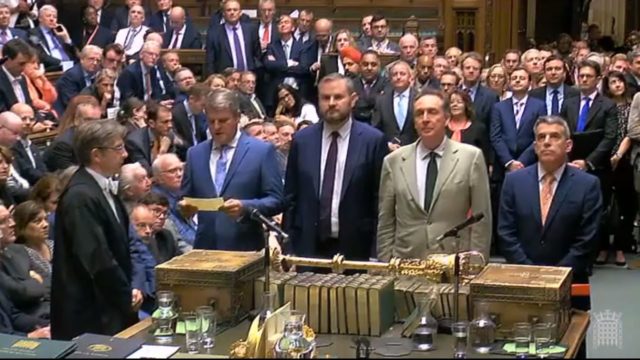 But he said the crucial issue was the absence from the EU Withdrawal Bill of any provision to make Brexit conditional on the nature of the future relationship with Europe.
"A Brexit in Name Only now has to get through Parliament, whereas before the Withdrawal Bill was passed it could have been included in the Withdrawal Bill. It hasn't been," he said.
"The legal position is now so much stronger for a clean Brexit. Crucially this makes the Prime Minister's negotiating hand much stronger."
The passage of the bill should dispel any lingering suspicions in Brussels that Britain may change its mind and stay, said the North-East Somerset MP.
It meant that Mrs May can go to future summits and say "Look, if you want the £39 billion you've got to give me a deal I can get through Parliament", he said.
Mrs May will be able to make clear to Brussels that Parliament would simply not accept that in return for its "divorce bill", Britain should receive no more than "a promise of good faith in future negotiations of trade".
"The basis for a deal is actually quite straightforward," said Mr Rees-Mogg. "The EU wants our money and we want a trade deal. For £39 billion we should be able to buy a pretty good trade deal."
But the absence of conditions in the Bill also meant that if the agreement which emerges from the current round of negotiations proves unacceptable, a future government could simply tear it up and seek a better one.
"What we agree in this period and is then legislated for will be possible for any future government to change in the ordinary course of events," said Mr Rees-Mogg.
"Should we sign up to a customs union or the single market? In my view, absolutely not, it would be  a great mistake and would leave us as a semi-vassal state.
"But EU law would have no direct effect in this country and any future government could change it."
Challenged over whether this would mean uncertainty for years to come, he said: "There are always uncertainties in all walks of life, always."
Mr Rees-Mogg rejected suggestions that Tory Brexiteers are preparing to move against the Prime Minister if she shows any signs of drifting towards a "soft Brexit".
"I think there will inevitably remain tensions in the Tory Party," he said. "It would be silly for me to try to pretend that suddenly we will all be united."
But he added: "The role of the ERG has been very much to support the Prime Minister in the Brexit policy that she has announced. We will continue to support the pursuit of the Brexit policy she has outlined.
"I fully support the Prime Minister and I think most people in the Conservative Party do.
"I don't see any threat to Mrs May's position. She's got a good deal of support and with the Bill through, her position is significantly strengthened both domestically and in the EU. I think her position is secure."
He did not, however, have such warm words for Chancellor Philip Hammond.
"I'm sure there are some people who would like to frustrate Brexit and some of them are in very high office and some of them may not be a million miles away from Number 11 Downing Street," said Mr Rees-Mogg. "Absolutely.
"But I think they are a minority in the Conservative Party and the country wants us to leave and I don't think they will succeed in frustrating Brexit by the back door."