Theresa May has been urged by hardline Brexiteers to speed up preparations for a "no-deal" Brexit to put pressure on Brussels during withdrawal negotiations.
Sixty former cabinet ministers, MPs, economists and business figures signed a letter to the Prime Minister urging her to issue orders to departments to accelerate planning for Britain to operate under World Trade Organisation (WTO) rules if a deal cannot be done.
They argue that in order to have "real leverage in the Brexit endgame" the UK must reserve the right to walk away without a trade deal "and take with it the £39 billion it has offered to pay as part of a divorce settlement".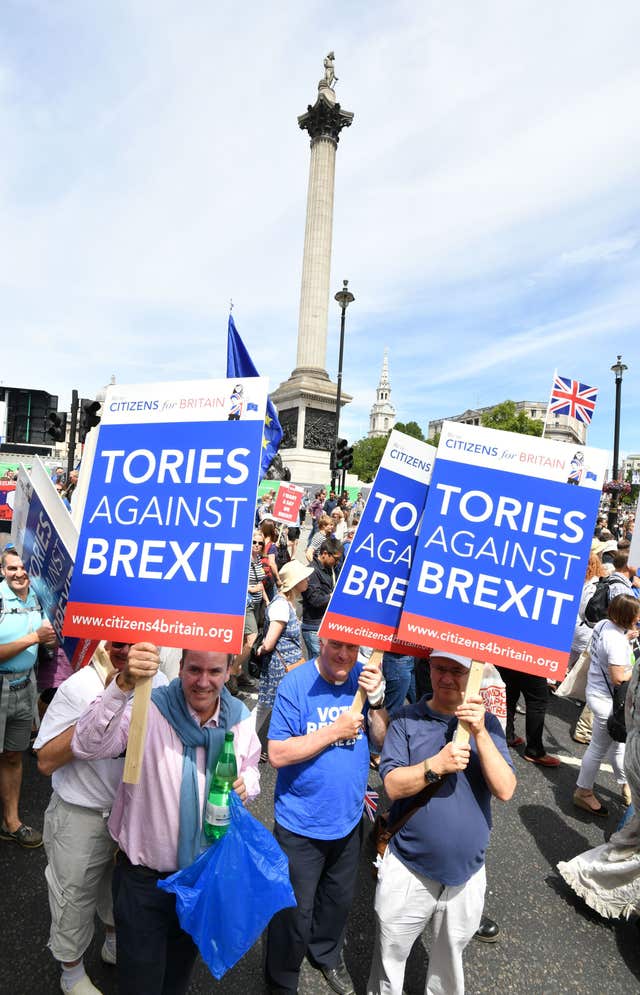 Politicians from across the political spectrum took part in the People's Vote rally on Saturday as the divisions over withdrawal from the European Union showed no sign of narrowing.
Signatories to the letter, organised by Economists for Free Trade (EFT) and released on Saturday, include the former chancellor Lord Lawson, ex-environment secretary Owen Paterson and one-time Wales secretary John Redwood, plus Wetherspoon boss Tim Martin and Sir Rocco Forte, chairman of Rocco Forte Hotels.
In it they urge Mrs May to warn her European counterparts that despite their "intransigent and punitive stance" they cannot delay or block Brexit.
They go on to say: "We believe you could also make clear that your preferred outcome is a free trade deal between Britain and the EU, an arrangement that is to the mutual benefit of both parties.
"Britain is a great champion of free trade and looks forward to striking free trade deals with countries beyond the shores of the Continent once Brexit has taken effect.
"However, in light of the reluctance of the EU swiftly to secure a free trade deal – eminently possible since we have been trading freely with the EU for more than 40 years – we suggest you make clear your belief that the UK has now to prepare urgently for the possibility that no agreement is forthcoming.
"Accordingly, we believe now is the time to issue instructions to UK authorities to accelerate their preparations for 'no deal' and a move to a World Trade Deal under WTO rules that, after all, govern the vast majority of global trading arrangements today."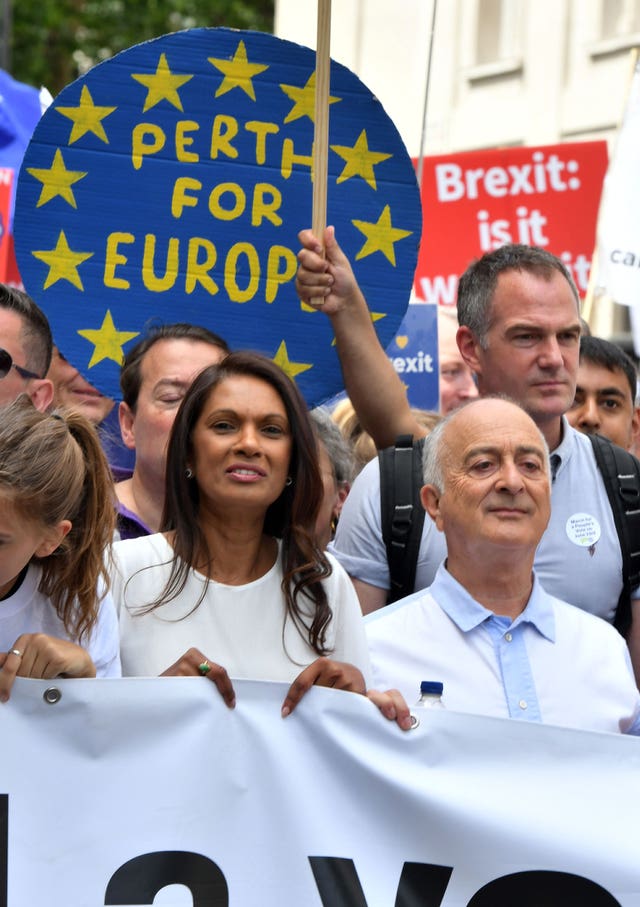 The letter insists that Britain can "flourish", even without a free trade deal, because of the benefits of leaving the EU, adding: "This would give the Chancellor ample scope to increase spending on priority public services such as the NHS while reducing the too high UK tax burden."
A Downing Street source said: "We are confident of getting a good deal that delivers for every part of the UK and allows us to take back control of our money, rules and borders."
A large crowd waving EU flags and placards attended the People's Vote rally on Saturday afternoon, walking from Pall Mall to Parliament Square.
The People's Vote estimated that 100,000 took part, but the figure could not be independently verified.
Siemens had earlier become the latest firm to warn against leaving without a Brexit deal, warning that it will have a detrimental impact on British businesses and jobs.
Chief executive Juergen Maier accused leading Brexiteers including Boris Johnson, Liam Fox and David Davis of using "incredibly unhelpful" sloganeering to suggest that Britain was not afraid of a no-deal Brexit.
He told BBC Radio 4's Today that the firm wanted a soft Brexit with "minimum friction", saying the Government had presided over "two years of not having achieved what we were promised, which is that this was all going to be easy".
He said: "I think the realities are setting in and I think it is time to get away from slogans, 'full British Brexit', 'going into combat with Europe'.
"It's all incredibly unhelpful and what we need to do now is to get closer with our European partners and work out what a realistic, pragmatic Brexit is that works for both sides, the EU and ourselves."