An England fan has spoken of his "frustration" after he was told to take a rainbow flag down inside the stadium.
Joe White, 25, said a steward removed the Three Lions Pride St George's Cross, which features a rainbow stripe, shortly before England's 6-1 win over Panama.
He said the steward told them "those colours are not allowed" before they contacted Fifa and the Football Supporters' Federation, who both swung into action to overrule the decision.
The pride group have travelled to Russia to support England and raise awareness of LGBT issues.
He said the stewards had inspected their scarves before deciding to let them into the ground.
The flag was later captured on television cameras as the players celebrated a goal.
Mr White, from Tooting, south London, said: "One of the supervisors has gone and taken it down and taken it away.
"They said 'oh no you're not allowed those colours in here' meaning the rainbow flag so obviously that's an issue.
"It was a touch and go situation but it got put back up in time for the game.
"I think for me I started getting really annoyed and angry because we had these reassurances.
"We've come over not just to support England, which is obviously a huge part of why we're here, we're here because we are England fans but also to show solidarity with LGBT Russians.
"To have that visibility and start that conversation that might not otherwise be had and so to be defined when there wasn't that issue.
"It was just frustrating more than anything else.
"It did start to tarnish it a little bit."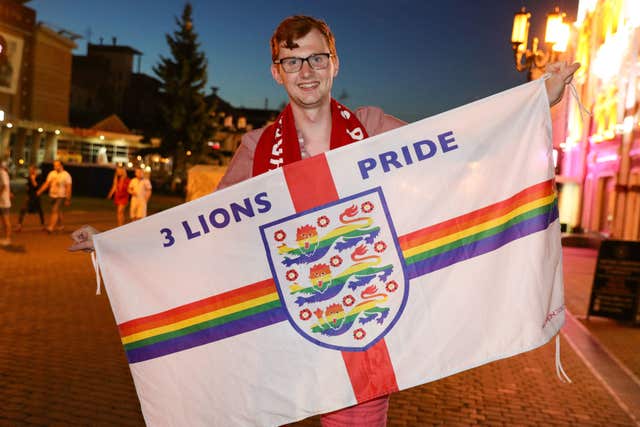 He added many fans, including some Russians, had told him they had been inspired by their attempts to raise awareness.