A written-off fire service van was among 171 emergency service vehicles damaged in pothole-related accidents since 2015, records show.
Devon and Somerset Fire and Rescue Service said the van was driving round a corner when it "hit a bump in the road awkwardly and the vehicle veered into the other carriageway and collided with a pick up van travelling in the other direction" in 2017.
It is not known if anybody was injured in the collision.
Other incidents included damage to wheels and bumpers, broken springs and punctured tyres. The details were released following Freedom of Information requests to all UK police forces, fire services and ambulance trusts.
Ten ambulance trusts, 45 fire services and 32 police forces had responded at the time of publication.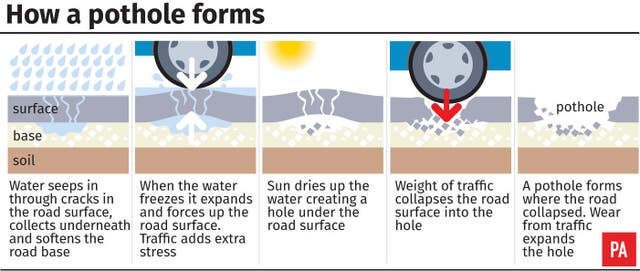 The police forces are Cheshire, Derbyshire, Dyfed-Powys, Hampshire, Kent, Norfolk, Suffolk, North Wales, South Wales and Police Scotland.
The fire services are Devon and Somerset, Lancashire, London Fire Brigade, Mid and West Wales, Northumberland and Oxfordshire.
No ambulance trust had records of damage.
Some agencies said they did not hold information, others recorded no damage and six police forces stated it would take too long to go through records.
Northern Ireland Fire and Rescue Service said information is not recorded, but that an engineer recalls an incident in February where a rapid response vehicle hit a pothole causing £580 of damage to the nearside rims and tyres.
Hampshire Police, which recorded damage to 45 vehicles totalling £19,670, said pothole damage accounted for just 2% of incidents.
Reversing was the cause of 28% of incidents of damage.
Police Scotland, which recorded 14 cases of pothole damage out of a fleet of more than 3,500, said vehicles are repaired in its own workshops and the cost is recharged through the police budget.
The estimated cost of the damage was £9,795.
Kent Police recorded 19 incidents of pothole damage, totalling £11,450, and nine of these vehicles were cars used for training.
The force said: "Officers on driver training are advised to avoid potholes wherever possible, but it is accepted that this can be difficult to do so safely on occasions."
South Wales Police, which recorded 28 pothole-damaged vehicles at a cost of £5,900, said it has "contingency plans in place to ensure that any wear and tear can be fixed quickly and efficiently, and not affect the force's operational capabilities".
In May the AA said the total estimated bill for potholes damaging vehicles of UK motorists was more than £4.2m so far this year.