Downing Street has insisted that Theresa May's preferred solution to the Brexit Irish border impasse remains on the table, despite being dismissed by a senior member of her Cabinet as "bureaucratic, unwieldy and impractical".
Andrea Leadsom, the Eurosceptic Leader of the Commons, told The Daily Telegraph that the "customs partnership" model might lead to more "red tape" for businesses.
Her intervention came as Government ministers clashed over their responses to business warnings about the impact of Brexit uncertainty.
Defence minister Guto Bebb said warnings from firms including Airbus could not be dismissed and accused "multi-millionaire" members of the Cabinet of putting their leadership ambitions ahead of business concerns.
Mrs Leadsom's intervention on customs comes as ministers prepare to decide on their preferred option to ensure smooth post-Brexit trade.
Cabinet ministers have been examining the customs partnership model, along with the "maximum facilitation" system favoured by Brexiteers, for several weeks in an attempt to find a solution to one of the main sticking points of the whole Brexit negotiations.
Brexiteers such as Foreign Secretary Boris Johnson oppose a customs partnership with the EU, which would see the UK collect tariffs set by the EU customs union on goods entering the country on behalf of the bloc.
Their "max fac" alternative would, rather than scrapping customs checks, use technology to minimise the need for them.
Both systems have been dismissed by the EU.
Mrs Leadsom, who challenged Mrs May for the Tory leadership following David Cameron's resignation in 2016, told the Telegraph: "I think the customs partnership looks quite bureaucratic and unwieldy, it has implications for needing to keep alignment with a lot of EU product regulations and so on.
"That does seem to lend itself to a more technology-driven solution than one where you're seeking to pick up tariffs on third parties which can get complicated.
"The problem with complications, particularly for businesses, they are not keen on more bureaucracy, more red tape.
"That is potentially a less attractive option for businesses themselves."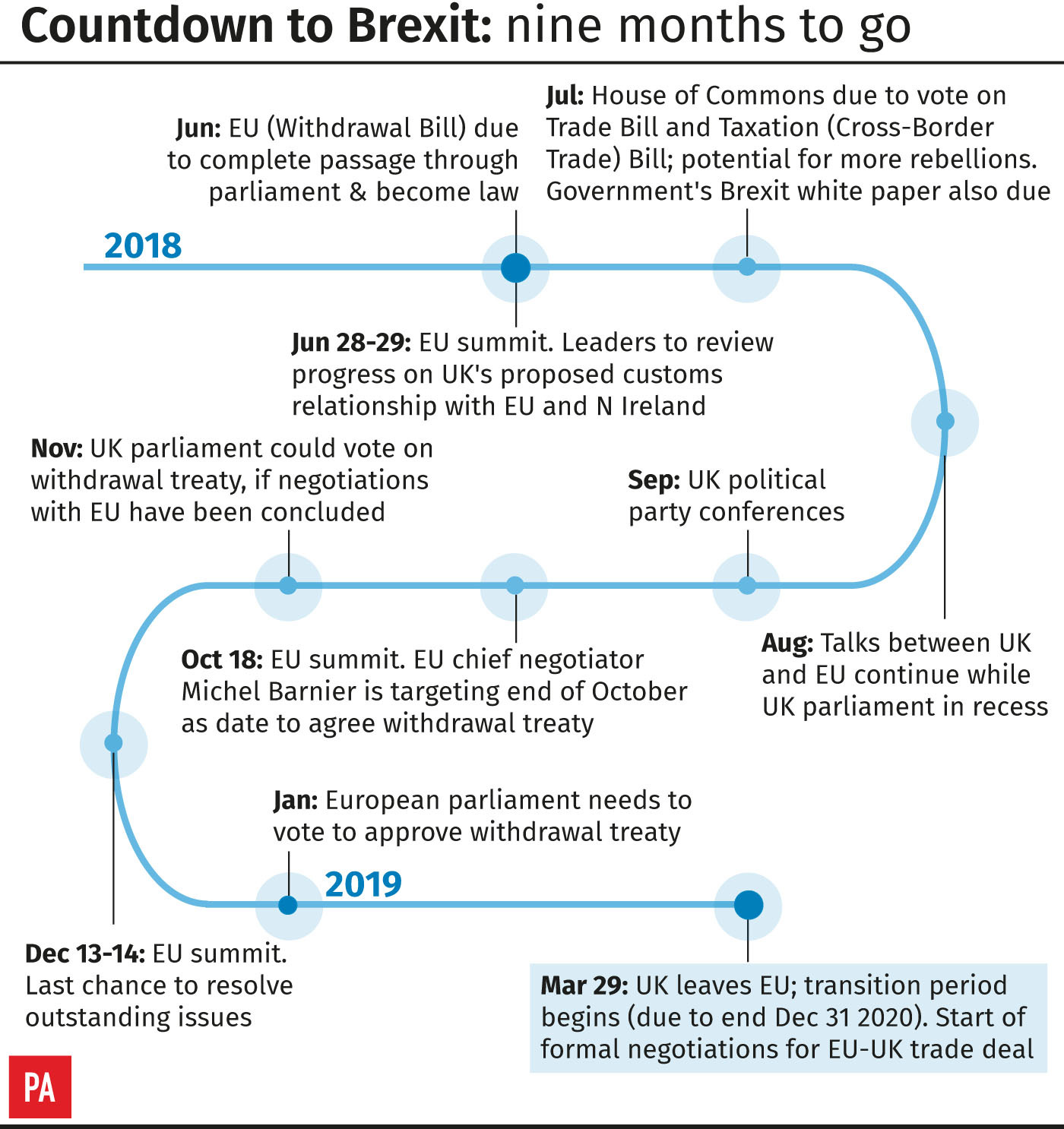 "That work is being conducted by a working group. More work is being done on both options. That remains the position."
On Sunday Jeremy Hunt and Liam Fox rounded on aerospace giant Airbus and other firms after they questioned the Government's handling of Brexit negotiations.
Health and Social Care Secretary Mr Hunt accused them of making "completely inappropriate" threats, warning that undermining Mrs May could lead to a disastrous "fudge".
And International Trade Secretary Dr Fox warned that taking "no deal" off the table during Brussels negotiations would weaken the UK's bargaining position.
But Mr Bebb, a defence minister and MP in North Wales – where Airbus is a major employer –  said: "The dismissive attitudes shown towards our business community by senior Cabinet ministers is both unworthy and inflammatory."
He told BBC Wales: "Business wants a good deal and so does the government. Do the leadership aspirations of multi-millionaires trump the need to listen to the employers and employees of this country?"
Mrs May's spokesman said that ministers had been involved in extensive private discussions with business ever since the referendum result.
"If individual companies or others choose to make their views public, that is up to them," said the spokesman.
He said the Prime Minister was "confident" of securing "a Brexit deal which all employers in the country should be able to support".
Northern Ireland Secretary Karen Bradley was in Brussels for talks with EU chief negotiator Michel Barnier about ongoing efforts to find a solution to keep the border with the Republic open after Brexit.
Business Secretary Greg Clark, responding to an urgent question on Airbus, was cheered by some opposition MPs as he insisted major businesses are entitled to be "listened to with respect".
Mr Clark said the warnings from Airbus about the consequences of no agreement being reached by the end of March 2019 were "completely consistent" with what "every part of the industry collectively has been saying" directly and through the industry trade body.
He told the Commons: "Any company and any industry that supports the livelihoods of so many working people in this country is entitled to be listened to with respect.
"The Government has been clear that we are determined to secure a deal with the EU that meets the needs of our aerospace firms and the thousands of people whose livelihoods depend on them."
Mr Clark added it was important to note that Airbus's remarks were addressed equally to the European Commission and EU member states.