Arlene Foster's visit to a Gaelic football final helps create the atmosphere to restore the powersharing institutions in Northern Ireland, the president of Sinn Fein said.
Mary-Lou McDonald called for more action from the British and Irish Government to break a stalemate which has lasted for months.
Her DUP counterpart Mrs Foster was warmly applauded by GAA fans as she joined them in Clones, Co Monaghan, in the Irish Republic on Sunday to watch her native Fermanagh play neighbouring county Donegal in the Ulster Final.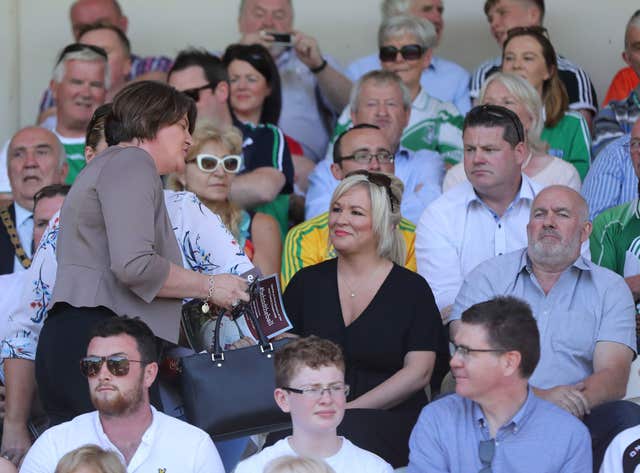 "They are about demonstrations of respect and courtesy and friendship and I want to commend her for that.
"I want to say that gestures are more than tokenism, gestures have to then give expression to real political change and advancement. To get the institutions back up and running we need good will, we need the right atmosphere.
"I think yesterday Arlene contributed to that and then the issues that are outstanding need to be resolved."
Late Sinn Fein deputy first minister Martin McGuinness's resignation in January last year caused the collapse of the devolved ministerial Executive and Assembly and endless rounds of negotiation have failed to restore them.
Ms McDonald addressed an anti-sectarianism event in Ardoyne in North Belfast, the scene of serious violence in previous years.
She added: "I very much look forward to the day where we have again that accommodation that allows us to re-establish our power-sharing institutions because there is no doubt that they are essential.
"They are essential for good governance here in the north, essential for delivering for people who live in the north and they are also an essential platform for the very thing we have been discussing in terms of fending off and facing down sectarianism."
She said Mrs Foster's was an important visit and followed steps taken by her own party whose members met the Prince of Wales during his recent trip to Northern Ireland and the Republic.
"These gestures of friendship create positive atmosphere. I think it is very good, any gesture of respect and acknowledgement is to be welcomed."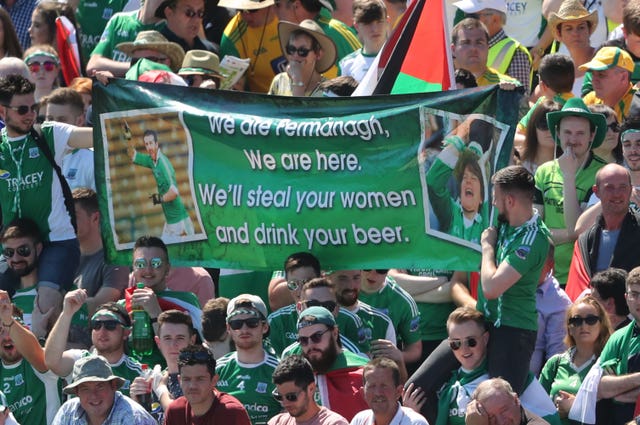 She said she was aware of the significance of her appearance at a game synonymous with the nationalist tradition and that she led a political party that wants to have a shared society in Northern Ireland.
Mrs Foster stood as the Irish national anthem Amhran na bhFiann was played before the throw-in and then took her seat only a few feet away from Sinn Fein's Stormont leader Michelle O'Neill.
Mrs O'Neill said: "Gestures are important in terms of sending out a very strong signal of intent.
"We will continue to stretch ourselves today, tomorrow, the day after, the day after that to build a society that is free from sectarianism."
She added: "Confronting sectarianism is certainly not a spectator sport, it is a call to action."