Britons have enjoyed the hottest day of the year so far as the summer heatwave continues.
The mercury soared to 30.2C in Wales, beating Monday's high of 30.1C in London, the Met Office said.
But with the hot temperatures have come warnings to be careful near water and in the countryside, where fire crews have been tackling wildfires.
Surrey Police warned of the dangers of swimming in open water after the body of a man was recovered from a lake in Nutfield on Monday.
In York, police smashed the window of a vehicle in a hospital car park to rescue two dogs from sweltering conditions inside.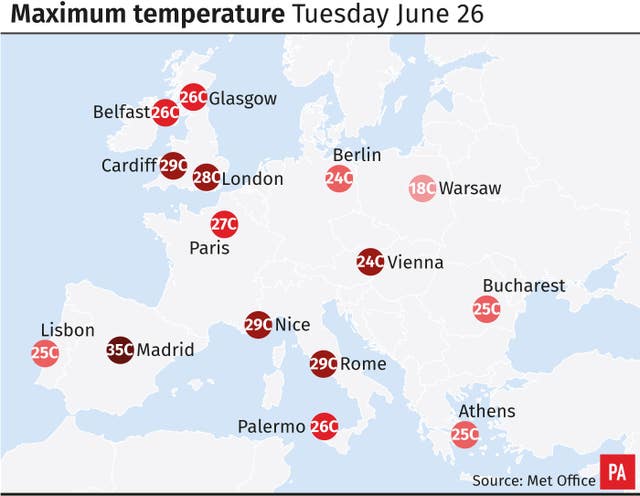 Derbyshire Fire and Rescue Service reminded people that "a stray cigarette, a discarded glass bottle, or a spark from a BBQ can all cause untold devastation".
Parts of the UK are hotter than Athens in Greece, and on a par with Kuala Lumpur in Malaysia and Rio in Brazil.
The Met Office's heat-health watch alert is currently at level two, meaning  social and healthcare services are at the ready to reduce harm from a potential heatwave.
The RNLI has urged those heading to the seaside to seek out beaches with a lifeguard.
In a bid to help people avoid heatstroke, St John Ambulance is urging people to remember to wear suncream, keep covered up and stay hydrated.
Alan Weir, head of clinical operations, said: "We love it when the sun comes out in this country but it's important to remember that extreme heat can be dangerous.
"As many will be planning to enjoy the outdoors, we want people to recognise symptoms early on and take prompt action."
Public Health England said the over-65s, young children and those with health conditions are the most vulnerable in hot weather, and encouraged people to look out for each other.
Dr Thomas Waite of PHE said: "It's vitally important that we keep an eye on friends, family and neighbours who may be at risk, and chances are we'll all know someone, if we're all going to stay well this summer.
Homeless people can also be vulnerable if exposed to strong sunshine and heat while sleeping rough, charity Evolve Housing + Support  said.
Debra Ives, director of operations, said: "A lot of people sleeping rough don't have the basic items needed to survive on the streets in hot temperatures.
"As a result, we're calling on the public to donate things like sun cream, water, and sun hats, to help those at risk in the coming months.
"People can either offer them directly, or donate them to a shelter or charity."
The mercury soared to 30.2C at Hawarden Airport in Wales on Tuesday.
Temperatures are set to rise, with a possible high of 33C (91.4F) on Thursday, meteorologist Alex Burkill said, soaring above the UK average for this time of year of 17.3C (63.1F).
The fine, hot weather looks set to continue into next month, he added.
"At the moment it looks like that will be the general theme through much of July," he said.
"Generally it looks like it will stay drier and warmer than average."
Network Rail's extreme weather action teams are being activated across the country to monitor "vulnerable locations".
Services on the London Waterloo to New Malden line are being subjected to speed restrictions from 11am each day until Friday.
Network Rail said hot weather can cause the steel on rail lines to expand and in some cases buckle (curve), causing travel disruption.
Slower trains exert lower forces on the track, reducing the likelihood of buckling.